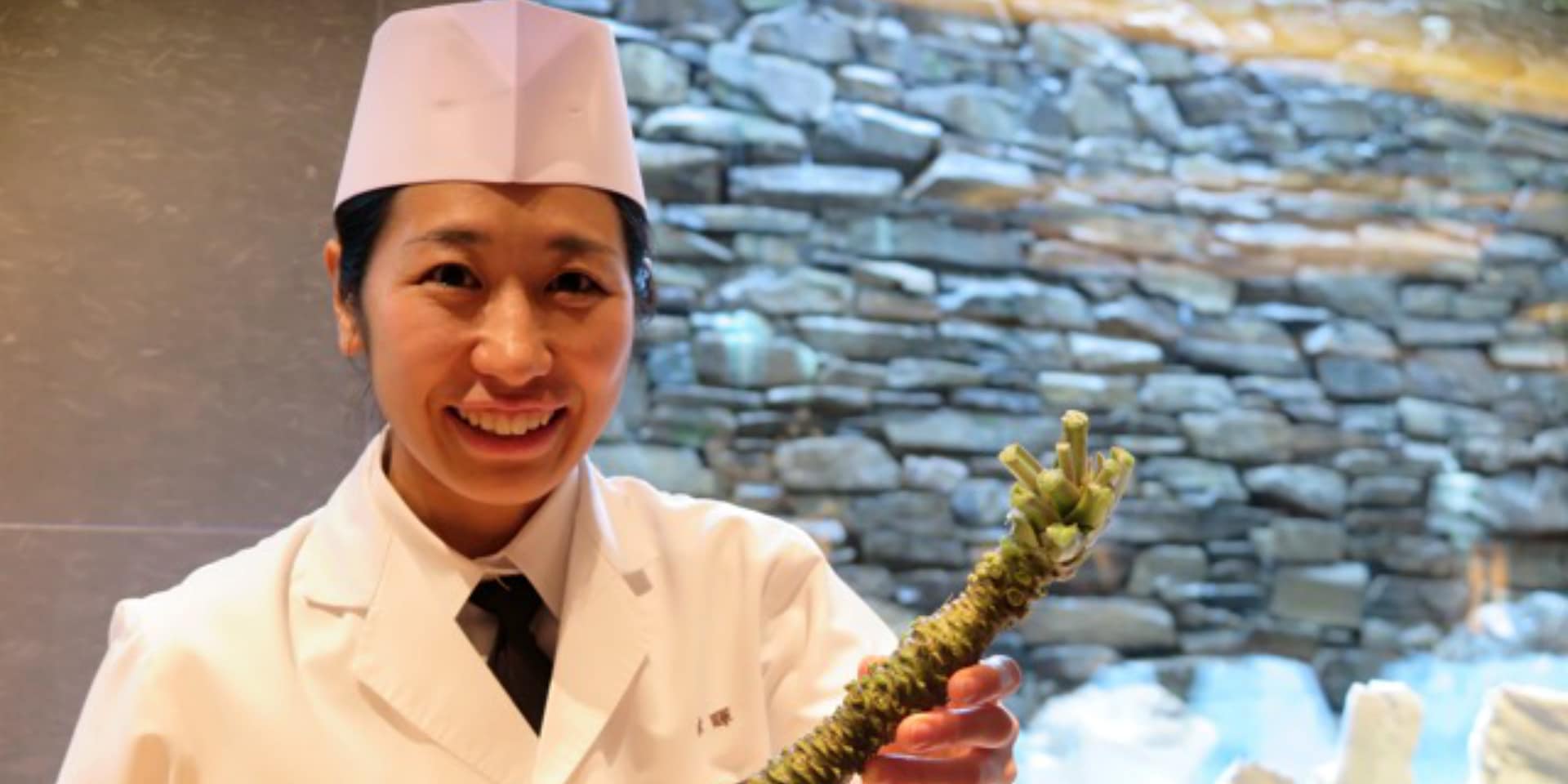 Please don't ask Chisaki Iba to make you a California Roll. She'll do it, but her way. "It was made for people who don't want to eat real fish," says the master sushi chef. "It's fake crab, avocado and cucumber. Why would we have fake crab? For what? If it's in season, we have real crab."
She draws the line at a spicy tuna roll, however.
"We have the best tuna in the world in Japan, so why would you add jalapeno or chili powder?" Iba asks, recommending that guests first try one piece of fresh tuna as it is. "If they still want me to put any spice on it, tell me and I'll think about it," she adds, laughing. "I don't even know the recipe. If I had to guess why people started to make (spicy tuna), it's because of the quality of the tuna or the color of it. They must be trying to hide something."
If Iba seems like a traditionalist when it comes to sushi, she wasn't always that way. In fact, when it comes to Japan, the Kyoto-born and raised chef didn't care much for the country at all. That was until she spent some time traveling the world, visiting 15 countries as a backpacker shortly after graduating from college. She attended the University of California, Los Angeles.
"My motivation to become a backpacker was I didn't like this country," Iba told Marriott TRAVELER from Mizuki inside The Ritz-Carlton, Kyoto. "I thought everybody thinks the same way."
There's an old Japanese saying, "The nail that sticks out gets hammered down."
"That's somehow what I felt like being in Japan," Iba says. "I was trying to find something wonderful outside of Japan, outside of me."
Iba is a rare breed. Not only is she one of the only female sushi chefs in the world, she is the first in Kyoto and only the second woman in all of Japan set to open her own sushi restaurant. Iba's brash in a funny way because she's quick to share her opinions in a country where overt politeness rules.
"I didn't choose to be Japanese, I didn't choose to be a lady, but still this is something I am," Iba says. "If you cannot face the reality of how you are created to be, you cannot be anybody."
Finding out more about herself and culture meant leaving it behind.

Learning to love her culture
Spain proved an ideal place to start because "Japanese people love Spanish food," says Iba, who had studied Spanish while in college. "Spanish people eat rice and seafood, so it's quite similar (to Japanese cuisine). I like their food, people are usually happy. As long as their football team is doing well, they are happy."
She spent the time improving her Spanish while traveling – a skill that proved useful to land the job at The Ritz-Carlton, as did her English.
While she was learning about other cultures, Iba would often be reminded of one thing: the fact she didn't really know much about her own.
"No matter where I traveled I would always meet somebody who loved Japan," she says. "They would ask me all about Japan – if I did a tea ceremony, if I did calligraphy or origami, and I had no idea [how to do] what they are talking about.
"Also, one time I was in a hotel with many young people from many different countries. I was the only Japanese person and they asked me a question about Japan's history and why we did something as a country. I had no idea what they were asking. I was quite shocked."
It was a rude awakening. "It was really kind of sad that you don't know what you have, you don't know where you're from. You don't know your culture or traditions," she says. "It makes you feel like you are almost nothing, you know? You are empty inside. I felt like I cannot be anybody wherever I go because I have nothing. It was a very interesting experience and quite sad."
That was a loss for Iba.
"Many people showed me their culture or would prepare traditional food for me to show me their history, but I didn't have anything (to give) in return," she says. "Looking at the other cultures, touching the other things, meeting other people and hearing other opinions, that all makes you look into your soul. It's very good to see what you don't know and of course it's good to go somewhere you've never been and talk with the people. Then, automatically the question comes up, 'Who am I?' Without this question, you can't be anybody. That's what happened to me. It shows you what you don't have and also what you do."
Returning to her roots
So Iba turned to her more traditional roots; she went to culinary school in Japan to learn how to make sushi.
Sushi is an art almost as old as Japan itself. Throughout the country's rich history, sushi has always been an intimate experience. Generally served in a tiny establishment for small groups of patrons, sometimes only at set times per day. It is so much more than a meal.
It takes unwavering tradition of preparation, consumption, and appreciation. And it only really takes three components: fish fresh from the ocean, the perfect warm and well-seasoned rice, and a skilled sushi chef. Specifically, a male sushi chef, we should add.
At least until recently.
Sushi Pioneer
When it comes to female chefs making sushi in Japan, Iba knows she's a pioneer, following in the footsteps of Yumi Chiba, who runs Anago no Uotake Sushi, which her father had first opened five decades ago in the city of Shizuoka, two hours from Tokyo.
There's also Yuki Chidui, who opened Nadeshiko Sushi, in Tokyo, in 2010, as the first sushi restaurant operated by women.
Often ridiculed by her male counterparts and not taken seriously by many male customers, Chiba and Chidui took much of the brunt of being the first women to open their own sushi restaurants in Japan, which has allowed Iba to operate in the shadows – and from the friendly and welcoming confines of The Ritz-Carlton.
Sushi restaurants "are a traditional male workplace," Iba says. "This job is very very hard for everybody, but especially for the ladies. Not many ladies want to be a sushi chef. It's stinky, fishy, always touching cold water with long hours. It's not a popular fantasy job for ladies."
"I am very lucky that I can be myself here at The Ritz-Carlton," Iba adds. "I'm not really girlish or boyish, I'm just me. I'm very happy I can be myself. I don't need to be a man to do sushi. I have to keep my personality." That spunky personality makes her sushi counter fun and approachable for guests.
Honing her craft
Iba has spent the past five years honing her craft at The Ritz-Carlton, Kyoto, since the hotel's opening and keeping her talent as sharp as the knives that slice through her sashimi ever since.
The restaurant, Mizuki, specializes in Edo-style sushi, meaning what's served are ingredients that are only found locally. Think tuna, bonito, halibut, sea eel and shellfish from Tokyo Bay caught that day.
The luxury hotel's 11-meter Wajima-lacquered sushi counter has 12 seats that faces a tranquil rock wall and water feature. It's an intimate setting where you can't help but get to know your sushi chef.
Iba feels at home behind the counter. Because she's also fluent in English and Spanish, she's able to share her love for sushi, and newfound appreciation for Japan, with her guests. That's as important as having good food, feeling welcome. Sushi bars can sometimes feel a little cold or just focused on the fish.
"It's a counter business, so I can meet people all the time," she says. "If I had to be in the kitchen just making sushi, I would quit tomorrow."
That kind of scenario is what Iba found off-putting when she pursued her original goal of become a baker.
"I couldn't talk to any of the customers," she says. That's if she could have found a job as one in the first place.
"I loved baking, and I saw everyone outside of Japan eating bread so I thought if I become a baker I can work anywhere in this world," Iba says. "I was totally wrong. Baking is a Western thing. People outside of Japan, they want Japanese people to do something very Japanese. Not baking. I said, "Oh, no, I don't know anything about my culture and they want me to do something traditional. So I picked up sushi. It seemed like a powerful skill for me to have and very traditional."
Learning the skill of making sushi, an art, is now the way Iba wants to share her country.
"Thanks to (the people) I met, I can be here and see many people every day from all over the world," she says. "This is my space to share my culture, my tradition to everyone."
"I don't want to be a backpacker again," Iba adds with joy, appreciating her newfound love for Japan. "Yeah, now I love Japan. People change, huh? I now really love my country. I'm happy here now."
---