One of the many things Mark Wiens ate on his around the world trip for food: a Mumbai-style veggie sandwich. (Photos: Mark Wiens of Migrationolgy.com)
For me, one of the greatest reasons to travel is to learn about, explore, and taste the wide variety of local food available in every destination around the world. When you're willing to eat at local restaurants, you have the opportunity to connect with so many people, have experiences you'll never forget, and, more importantly, get to taste some unique and incredibly delicious food.
I did just that on an around the world trip with Star Alliance and Marriott TRAVELER, while visiting nine cities in 39 days. Here are my top food highlights from each city.
1. Mumbai, India
Mumbai is India's largest city and it's truly a melting pot of India and the world. One of the unique cuisines available in Mumbai is Parsi food, a combination of Iranian and Indian food. When I asked my followers on social media where to eat in Mumbai, many people recommended I try a restaurant called Britannia & Co., so I knew I had to check it out. The restaurant itself is a classic, having opened in 1923. My favorite dish of the meal was sali boti, cubes of tender mutton in a flavorful spice filled gravy.
2. Muscat, Oman
One of the types of meat that's commonly eaten in Oman is camel, and I had my first camel meal in Muscat. There were two camel dishes, a type of stew, and also deep fried camel, which came with camel meat and camel hump. The camel meat was unbelievably delicious, tender, and the cubes of hump were equally stunning and just melted in my mouth.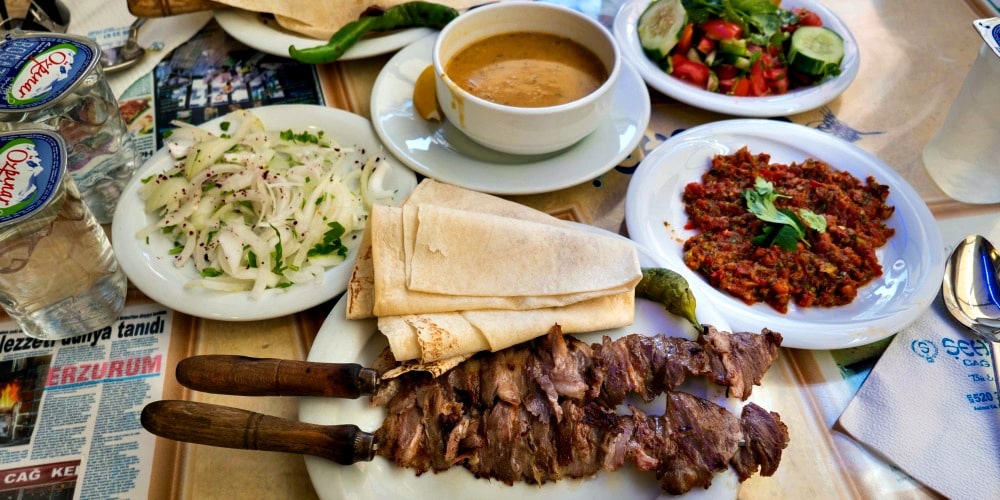 3. Istanbul, Turkey
Istanbul is one of the world's great food cities, and when you visit there are so many amazing things to try. Sehzade Erzurum Cag Kebabi serves a type of kebab roasted on a horizontal spit. As soon as you order, skewers are sliced off the main kebab and it's some of the most incredibly flavorful lamb you'll ever taste. I especially enjoyed it wrapped in bread with onions and sumac.
4. Rome, Italy
What really stands out to me about visiting Rome are the pastas. One night in Rome along with some friends, I went to a restaurant called Trattoria Dal Cavalier Gino. We ordered an assortment of pastas and main dishes, accompanied by a crisp white wine. One of my favorite Roman pasta dishes was cacio e pepe, made with goat cheese and black pepper.
5. Stockholm, Sweden
One of Sweden's most famous foods are meatballs, and they are delicious. But when I was in Stockholm I had a chance to eat a reindeer steak at a restaurant called Pelikan, and it was one of the highlight memories of my visit. The reindeer was so tender, and it had a liver taste and texture to it. Absolutely delicious.
6. Barcelona, Spain
Barcelona is a stylish modern city with a huge mix of Spanish and Catalan food available. I really wanted to eat some seafood when I was in Barcelona and so one day for lunch I headed to a restaurant called Can Maño, a lovely family run legendary little place. The gamberi (prawns) and the sardines, both grilled and drizzled in olive oil and garlic, were stunning.
7. Lisbon, Portugal
I could eat seafood everyday of my life, and Portugal has no shortage of amazingly fresh seafood. When you're in Lisbon, the most well known seafood restaurant in the city is Cervejaria Ramiro, and they will satisfy all your seafood needs for a reasonable price. Along with giant king prawns, a crab filled with roe, and goose barnacles, one of my personal favorite dishes was a pan of clams sauteed in olive oil and butter with tons of garlic.
8. New York City, United States
New York City, being so diverse, gives you the opportunity to try food from just about anywhere in the world somewhere within the city. One of the restaurant chains within the city that has humble beginnings is Xi'an Famous Foods. I made the journey out to Flushing to try one of the original locations, located in a basement food court. The spicy cumin lamb noodles were everything I had hoped for – gooey and chewy homemade noodles – mixed with slices of lamb flavored with chili oil and cumin.
9. Hong Kong, China
Dim sum is one of the meals you absolutely don't want to miss when you're in Hong Kong. But something else I really enjoyed was a bowl of curry brisket noodles at the legendary Kau Kee Restaurant. It had a beautiful dry curry powder flavor, with a bit of chili heat, tender stringy pieces of brisket filling the bowl, and noodles on the bottom. It was just about everything I could hope for in a bowl of curry brisket noodles.
Mark Wiens is a full-time travel eater based in Bangkok, Thailand. Check out his latest food blogs on Migrationology and watch his food videos on YouTube.
---