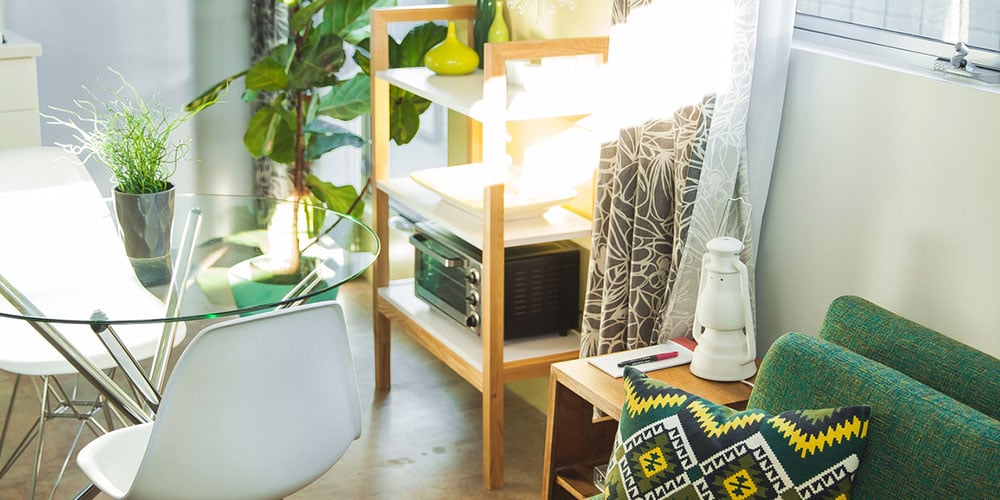 Palm Springs
4 Ways to Get Inspired by Palm Springs Design
By

Kathleen Gossman
Missed Palm Springs Modernism Week? No worries do your own Palm Springs weekend packed with design-inspired stops. (Photo: Stocksy)
What happens in Palm Springs doesn't have to stay there. You can create a desert oasis in your own living room or kitchen with Hollywood glam and Coachella couture. Take a weekend to visit Palm Springs to stock up on clever and cool design ideas.
Where to Find Southwestern Swag
Once upon a time, fancy bottled water from Icelandic glaciers didn't line the shelves of convenience stores in southern California. Water was a hot commodity, and Native Americans and Spanish settlers found lush respite in Palm Springs. The native pottery and woven works we call art were born of necessity; you can sample that style at Coachella Valley History Museum. The wine tastings they host are a definite plus.
Takeaway Look: Pine and Iron
Rustic pine and iron tables from Su Casa Mexican Imports add a pop of color to dining rooms, or you can let the naked versions age au natural. Just don't fret over the nicks and scratches that chronicle family feasts and second bottles of wine.
Where to Find Desert Modernism
The 22-ounce ribeye at Workshop Kitchen & Bar is a great idea. Trying to replicate that crust in your kitchen? Not so simple. But you can take some design cues from Workshop during your Palm Springs weekend. Small native plants and raw wooden accents add coziness to an otherwise Spartan space.
Takeaway Look: A Palm Springs Accent
Sleek lines and muted colors can make modern interiors resemble Lex Luthor's hangout, so warm accent pieces are crucial. Pick up Southwestern tapestries to make interiors sizzle at Palm Canyon Galleria.
Where to Find '60s Glam
The '60s were all about breaking the rules. While rock 'n' roll style and bacon-and-banana-PB&J sandwiches were big notches in Elvis Presley's belt, his Palm Springs honeymoon hideout defied design dogma. All rooms in The Robert Alexander Estate are circular, and the endless lounge couches and funky artwork make this building feel like Elvis never really left. Tours run daily at 1 and 3:30 p.m.
Takeaway Look: Break-the-Rules Lighting
Shag carpet and muttonchops are best left in the past, but a glitzy crystal chandelier or retro-futuristic fixture from Vintage Oasis makes for a brilliant conversation starter.
Where to Find Urban Edge
Modern human attention spans are shorter than the line to get a new Blackberry. Blame it on Internet cat videos and words like "bae." Palm Springs' Backstreet Art District has an exhibition for everyone, so it's a perfect stroll for those who can't sit still. Contemporary ceramic works have their place in the sun, and urban street art finds a canvas home at more than a dozen artist-owned galleries. Consider extending your Palm Springs weekend for the First Wednesday Art Walk each month from 6 to 9 p.m. The event is free, but the inspiration is priceless.
Takeaway Look: Reduce, Recycle, Re-Use
Made That's art and jewelry is glamorous, and the majority is created from up-cycled materials. If you can't brag about a bespoke centerpiece that helped save the planet, why bother?
---