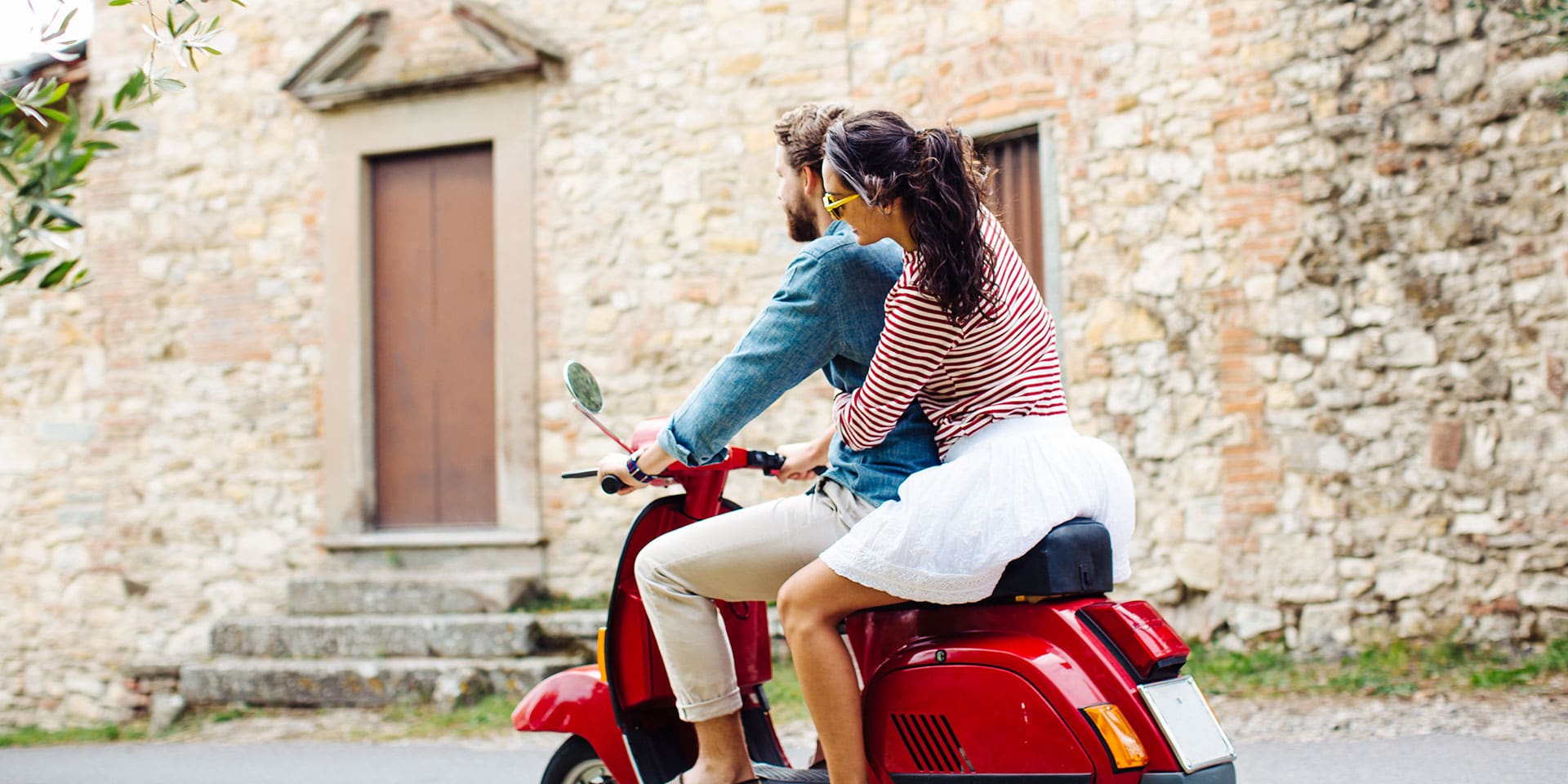 Rome
Every City Has Its Secrets. Here's Your Chance to Discover Rome's
By

Siobhan Reid
There's a lot vying for attention in the Eternal City – the Colosseum, the Sistine Chapel, the Pantheon, and don't get us started on the pizza. But beyond the famed monuments and galleries, the cosmopolitan city hides gourmet gelaterias, traditional trattorias, vintage markets and more. We've tracked down the unheralded locales at the very heart of Rome.
Scooteroma
Ever since Audrey Hepburn and later Lizzie McGuire (aka Hilary Duff) rode around Rome on a classic Italian Vespa, we've been patiently waiting for our turn. With Scooteroma tours, led by husband and wife team Giovanni and Annie, you can craft your own two-wheel itinerary.
Fancy a foodie excursion, with stops for espresso, pizza, gelato, and street food? How about a sightseeing jaunt to major museums and lesser-known hidden gems? Whatever you choose, you'll be in very good hands.
Trattoria Monti
Book ahead to guarantee yourself a seat at the humble, 12-table Trattoria Monti where the menu swaps traditional Roman fare for cuisine from the Le Marche region. We love the stuffed rabbit with braised radicchio, savory red onion flan with gorgonzola, and housemade, plate-sized tortellone. Pair your meal with a glass of the house red or white (or a bottle from the regional wine list).
If you manage to save enough room for dessert, the pear tartes, melon sorbet and zabaglione are perfect denouements. Warning: this isn't one of those restaurants you just casually pop into – it's only open 1pm-2:45pm and 8pm-10:45pm – so plan accordingly.
Porta Portese Flea Market
You won't find a flea market quite like Porta Portese. It's the largest in Rome and filled with all manner of items, from vintage dresses and antiques to old cameras, posters and more. Spend a Sunday morning perusing the hundreds of stands for one-of-a-kind souvenirs to bring home.
Volpetti Deli
If you thought you knew a thing or two about Italian delis after visiting NYC or Chicago's Eataly, think again. The pint-sized Volpetti Deli in the Testaccio neighborhood is filled beyond capacity with olive oils, cheeses, dried fruits, cured meats and breads – the very benchmarks of a primo Italian grocery.
There's never a slow day here, and the shopworkers mainly speak Italian, but don't let the fast-paced atmosphere intimidate. Gourmand or not, the endless free samples of balsamics, tartines, prosciutto and regional delicacies doled out by brothers and owners Claudio and Emilio Volpetti (and their extended family) are sure to make a foodie of you yet.
Next door, the sibling duo have opened a buzzy pizzeria; we're obsessed with the Casertana – loaded with Buffalo mozzarella, cherry tomatoes and basil – and the Focaccia con Gamberetti – with shrimp, parsley and lemon.
Palazzo Massimo alle Terme
This oft-overlooked Neo-Renaissance-style museum has some of the ancient world's greatest masterpieces. Check out the 2nd-century Greek bronze Pugile and Ermafrodite dormiente (Sleeping Hermaphrodite), then head to the second floor to eye the museum's crowning glory: the eye-popping colored frescoes that showcase the decor of prestigious Roman homes.
Centrale Montemartini
In a former power station, Centrale Montemartini is a prime example of Rome's knack for marrying old and new to eye-popping results.
Spanning several stories, the museum showcases ancient sculpture and mosaic among raw factory elements, creating a dramatic juxtaposition (imagine white marble statuary set against a backdrop of industrial machinery).
Parco Regionale dell'Appia Antica
If you're looking for an easy escape from the city, look no further than Parco Regionale dell'Appia Antica, a vast wedge of green space that sprawls from Rome's ancient walls towards the Alban Hills, a volcanic range southeast of the city.
The area's archeological parks and verdant swaths contain quiet, lesser known spots like Parco della Caffarella, where rolling pastures are dotted with grazing sheep. Spend an afternoon here and you'll feel completely recharged.
Flaminio District
Fans of modernist architecture won't want to miss the Flaminio district, just west of the Borghese Gardens. Along a perpendicular street towards the Via Flaminia's northern end are a series of modernist buildings by the 20th and 21st century's most innovative architects.
There's the MAXXI contemporary art museum by the late Zaha Hadid; Palazzetto dello Sport, a former basketball stadium by Luigi Nervi built for the 1960 Olympics; and Renzo Piano's Auditorium Parco della Musica, a group of bug-like concert halls and cultural spaces made of red brick and weighty lead roofs that surround an open air amphitheater.
Gelateria del Teatro
No city does Gelato better than Rome—and it's absolutely everywhere. So how do you pick the best spot when almost every corner has a charming boutique gelateria? Stand outside this place for a couple of minutes, and the decision will be made for you.
Pastry chef, gelato-maker and shop owner Stefano Marcotulli and his crew can be seen whipping up fresh water-and cream-based gelatos from the display window. Though the silky artisanal flavors like white peach and lavender, ricotta and cherry, and raspberry and sage certainly take center stage, we'd be doing you a disservice if we didn't at least mention the truffles and candied citrus peels over at the pastry counter.
This article was published through a partnership with Jetsetter magazine. Read the original story: Hidden Rome by Siobhan Reid, a regular contributor to Jetsetter.
More from Jetsetter: