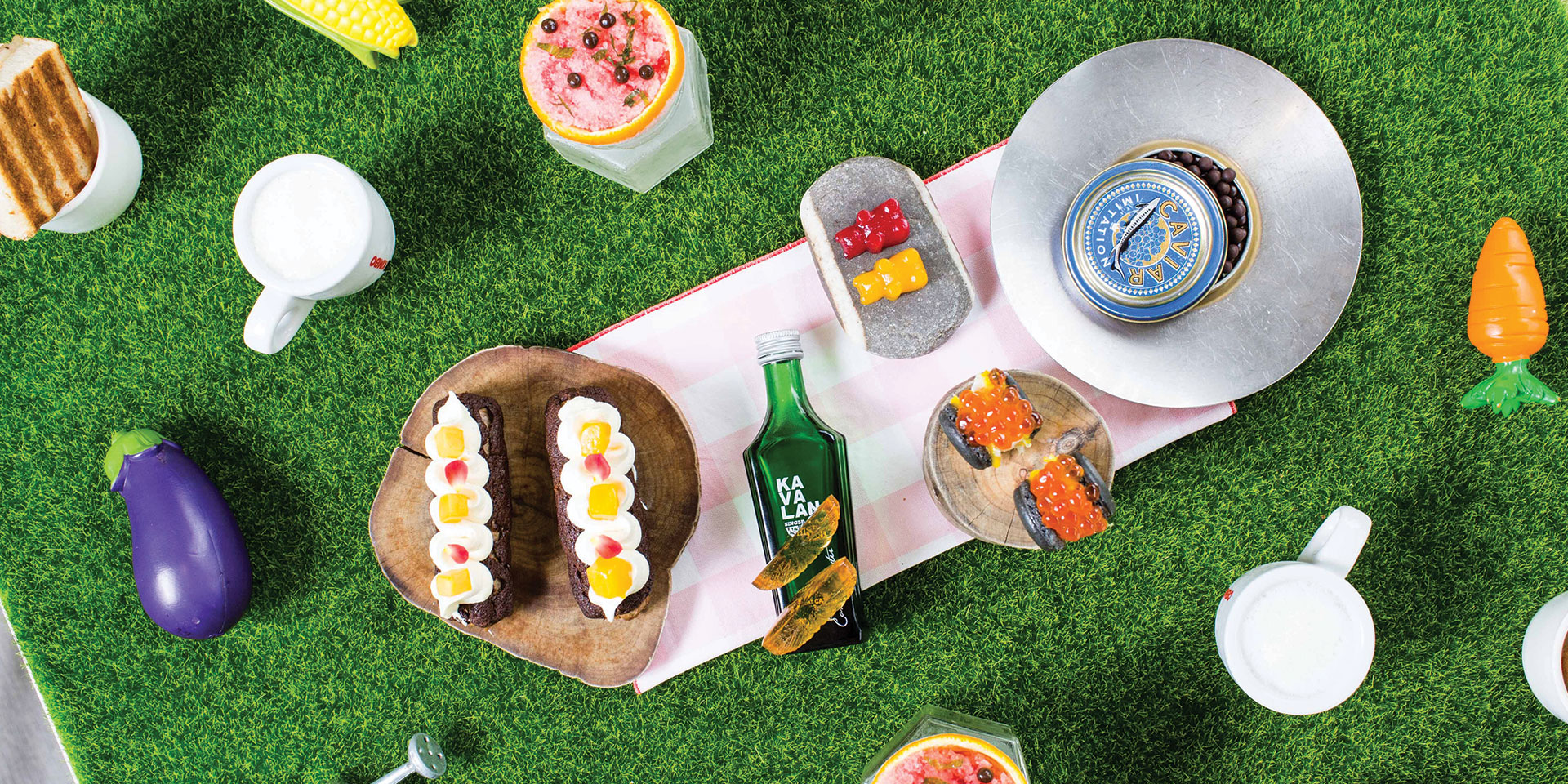 Taipei
Food as Art is Shaping the Taipei Food Scene. Here's Where to Find the Best.
By Keshia Hannam
Taipei has a street-food reputation that's rivaled by few other cities. The medley of pork buns and seafood, soy milk and noodles, mochi rice balls and crispy tofu keeps the hungry crowds flocking to xiaochi stalls at over 100 night markets around the capital.
Yet this irresistibly cheap and tasty fare is now being surpassed by the trend for fine dining, as innovative international chefs add world-class flare to local ingredients.
In a city that usually sees the masses making a beeline for the xiao long bao at dumpling mainstay Din Tai Fung, or for iced coffee from Fong Da, it's refreshing to see a new crowd of foodies—travelers and locals alike—who are getting excited over bird nest ferns and chayote shoots instead.
What's more, with restaurants drawing on the same high quality produce from the neighborhood markets, most menus almost entirely feature local, sustainable ingredients—setting a standard for Taipei's modern dining scene that most other cities struggle to match.
Walk into Yellow Lemon, a modern dessert bar in the Zhongshan District, and the cookbooks artfully stacked on the steel-and-wooden bookcase are a snapshot of the pastry chef's international inspirations; "NOMA" by René Redzepi, "Origin: The Food of Ben Shewry," and numerous works by Massimo Bottura and Heston Blumenthal.
Yellow Lemon is the brainchild of Italian chef Andrea Bonaffini, a zealot for tasting-menu-style desserts who was drawn to the Taiwanese love of good food and eating after years working in Michelin-starred restaurants and five-star hotels.
His food-meets-art dishes have an air of the dramatic about them—miniature sweet and savory items are daintily served on your "grass lawn" table, picnic-style, or spattered about with the abandon of a free-form artist.
But central to the concept are Chef Bonaffini's local ingredients. Black pepper is a favorite: sourced from the high mountains of Taipei, it's known as maqaw by the Atayal aborigines. Chef Bonaffini turns it into a very light sorbet, adding in water and anise.
The chef team behind Mume met in the kitchens of Noma (Copenhagen) and Quay (Sydney) and reunited in Taiwan to create dishes that embrace the concept of eating local.
"The scene [in Taipei] is quite young," he says. "Prior to Mume and RAW opening, the top restaurants in Taipei were Stay by Yannick Alleno and L'Atelier by Robuchon, both of whom import most of their produce from France to make it easy to replicate their hallmark cuisine."
The scene change has affected more than just restaurants, and more than just Taiwan, with local businesses producing everything from coffee to whiskey starting to make big inroads in Asia, America and Europe.
"It's really a statement to the world to wake up about this small island," adds Chef Xiong. "Big wins like these on the international stage means these industries will only get stronger and stronger in Taiwan."
For a city that lives for its pork (pork belly, pork rice, pork stew…) it may be surprising to see vegetables featuring so heavily—and being so popular—on modern menus. RAW's current menu has one course that features 27 different vegetables.
This fine-dine collaboration between Singapore-based Taiwanese chef Andre Chiang and the Hasmore Restaurant Group enlaces Italian, Indian and French influences with local Taiwanese ingredients for what it calls a "new interpretation of Taiwanese flavor."
The majority of RAW's dishes focus on a few simple ingredients that reflect Taiwan's 24 micro-seasons. Courses have ranged from short rib, granola and potato, to the art-on-a-plate that is pork ear, Kenya bean and leek.
---