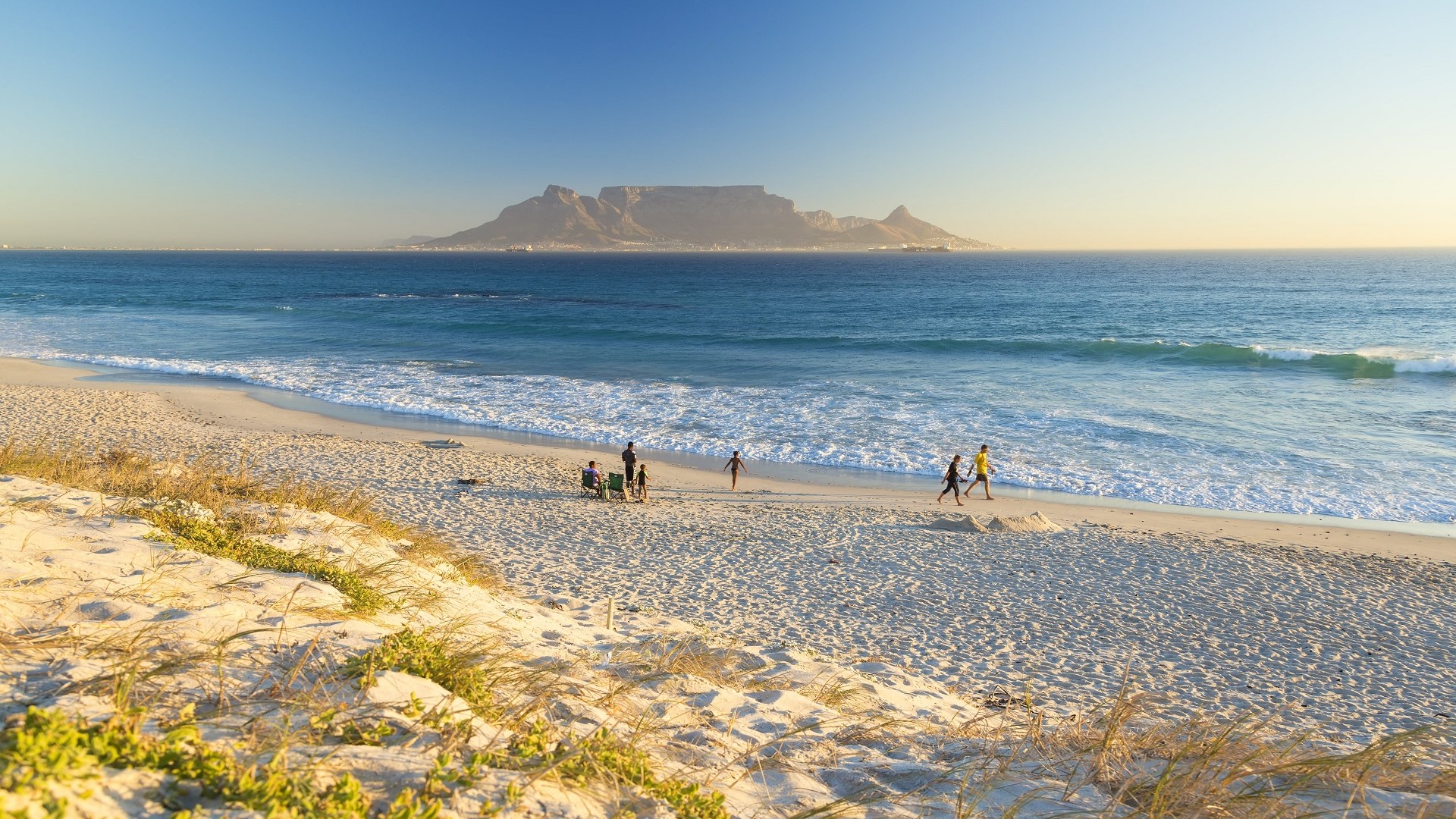 With a coastline of nearly 2000 miles bordering two oceans, visitors to South Africa are overwhelmed with choices when it comes to beaches.
In subtropical northern KwaZulu-Natal, the warm Indian Ocean waters are home to playful dolphins and turtles that nest on the shore. Cape Town's beaches range from fun, vibey hangouts to long stretches that are perfect for barefoot walks along the sand.
International surfing contests are held along South Africa's coastline, including the Ballito Pro and the Corona Open J-Bay. And there are Blue Flag beaches that are great for families, with lifeguards, showers, activities and ice-cream stands.
Here are just six of our favorite South African beaches.
Find surf heaven in Jeffreys Bay
On the Eastern Cape's south coast, J-Bay — as Jeffreys Bay is known — is famous for one thing: surfing. It regularly features in lists of top surfing destinations and hosts the World Surf League's Corona Open J-Bay in July.
The long right-hand point break — one of the best in the world — at Supertubes Beach has several sections, but Supertubes is considered the highlight, breaking for over 300 meters (984 feet).
But it's not all about surfing here. You can also go whale watching between June and November, ride horses down the beach, go fishing, or visit one of the nearby nature reserves for hiking and birdwatching.
J-Bay can be included in a Garden Route road trip — at least for those who extend the journey from the official end point of Storms River to the city of Gqeberha (formerly Port Elizabeth). For those who just want to surf that epic right-hander, the seaside town is under an hour from Gqeberha's airport.
Relax with friends on Clifton Fourth
"Ice lolly to make you jolly?" — so goes the refrain from the vendors on Clifton Fourth, one of Cape Town's most popular beaches in the chic Atlantic-side neighborhood. The sheltered, white-sand, Blue Flag beach is always packed on a hot summer day, with a crowd that's typically made up of young, trendy Capetonians, families and tourists.
There are four beaches on this stretch. Clifton Fourth is the largest, with most facilities and calmer water. Clifton First is quieter, with more waves; Clifton Second is also relatively quiet and better for beach sports; Clifton Third is a popular LGBTQ+ hangout.
Parking is usually scarce, so it's best to use a taxi. If you're staying somewhere local — such as the Protea Hotel Cape Town Sea Point — you could also take a scenic stroll to Clifton along the promenade and coastal Victoria Road.
Enjoy quality family time in Umhlanga
One of Durban's fashionable neighborhoods, Umhlanga lies between King Shaka International Airport and the CBD. The beach at Umhlanga Rocks is particularly popular with families owing to the surrounding facilities; the inviting Protea Hotel Durban Umhlanga, for instance, is just a few minutes' walk from the beach and an ideal base for the whole clan.
Durban is where many South Africans spend their winter holidays, drawn to the balmy weather and warm Indian Ocean. At Umhlanga Rocks, children can play on the beach or bodyboard in the surf — there are shark nets and lifeguards.
For lunch, there's an array of family-friendly restaurants right behind the beach. And when you need to stretch your legs, you're right on Durban's excellent promenade that leads past the Umhlanga pier, designed to resemble a whale skeleton, to the Umhlanga Lagoon Nature Reserve.
Go wild for Wilderness
Along the Garden Route, Wilderness is a tiny town with a stunning beach, whose long stretch of pale sand is often blissfully free of crowds.
You might spot dolphins in the waves or even whales further out.
It's safe to swim at this Blue Flag beach, with lifeguards on duty in peak season. There are fewer facilities than you'll find elsewhere, but this is what keeps it quieter. And the beach is dog-friendly, so if you're road tripping with four-legged friends, this is a great place for long walks.
For an elevated view across this scenic swathe of golden sand and blue Indian Ocean, stop at Dolphin Point Lookout, just before the town if you're driving from George.
Around Wilderness, you can explore the lakes and waterways in a canoe; hike or cycle the trails; and birders should bring their binoculars to spot some of the 300 species here, including half-collared kingfishers, greater flamingos and the Knysna turaco.
As the day draws to a close, a warm welcome awaits at the Protea Hotel Knysna Quays, just a 40-minute drive away in the town of Knysna.
Ride your first wave in Muizenberg
On the edge of False Bay, Muizenberg is in the so-called 'deep south' of Cape Town — but it's only a 30-minute drive from the Protea Hotel Cape Town Mowbray in the southern suburbs.
The waves are perfect for people who want to try their hand at surfing for the first time and there are plenty of instructors and rental places along the beachfront. Many more experienced surfers can be found paddling out every day, too.
Muizenberg is known for its brightly colored beach huts and is also one of the more diverse beaches in Cape Town, with families from all over the cities enjoying the space on summer weekends.
The water of False Bay tends to be warmer than the Atlantic, too, so it's an ideal spot to visit if you like to spend more than a couple of minutes in the water!
Encounter diverse marine wildlife in Sodwana Bay
South Africa's top diving destination, Sodwana Bay, lies in the far north of KwaZulu-Natal, near Mozambique. Sodwana is about a four-hour drive north from Durban's Protea Hotel Fire & Ice! Durban Umhlanga Ridge, which is designed like a surfers' hotel from the 1960s.
The ocean here is rich with marine life, from the playful dolphins that swim right up to snorkelers to coral reefs where you might see pufferfish, parrotfish, different types of nudibranchs and hammerhead sharks.
One of the most special things about Sodwana is the turtle nesting and hatching that happens between November and May. You can join responsible tours to witness loggerhead and leatherback turtles emerge from the water at night to nest on the beach or, from January, to see the babies break free of their eggs and scramble towards the ocean. The experience is about four hours long and includes drinks and snacks.