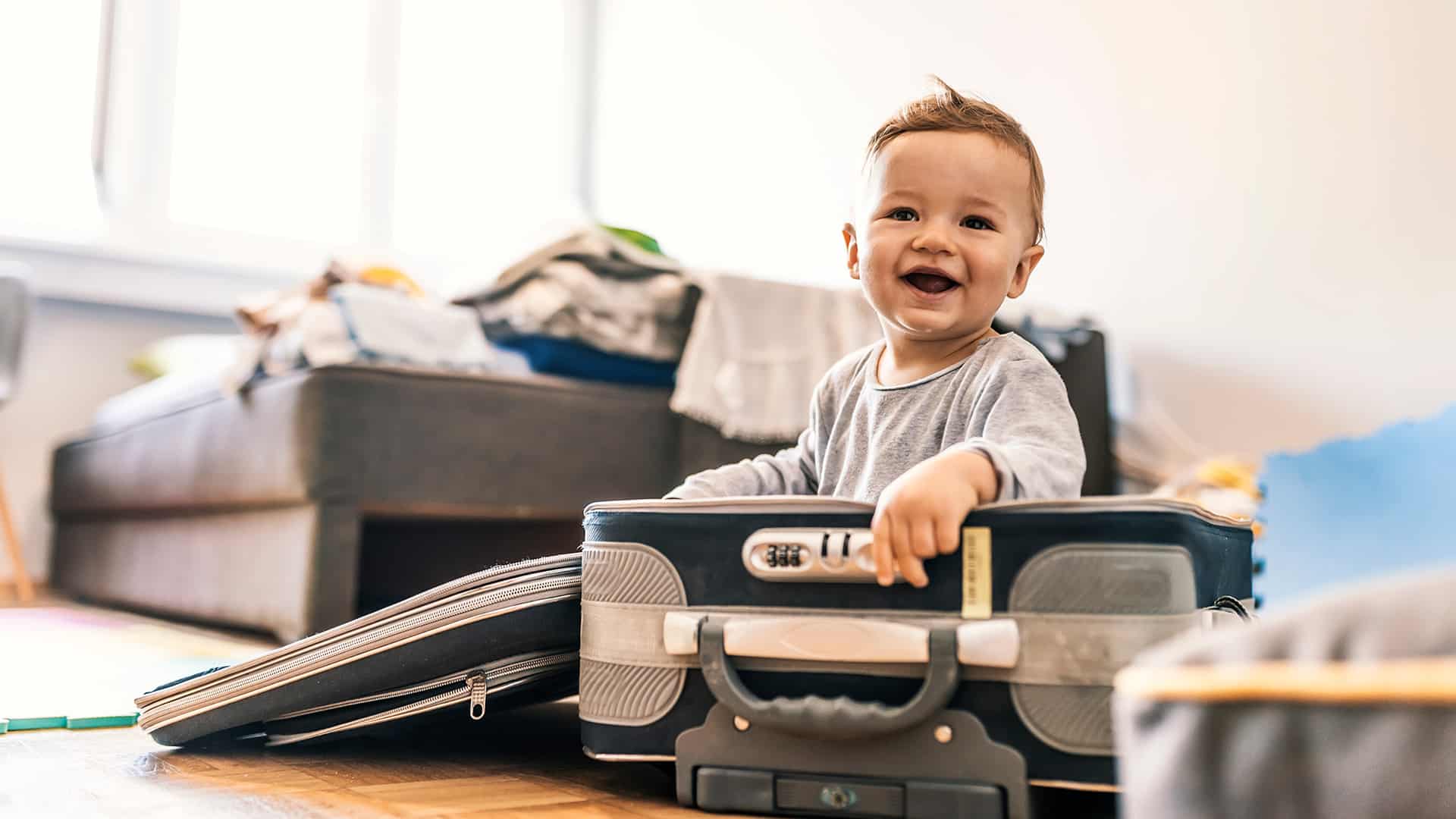 Kid-Friendly
Traveling with Kids? Pack These 20 Things (and Leave These 3 Things Home)
By

Holly Kapherr
It's no secret: Kids need a lot of stuff. But when you're on vacation, it's sometimes not as simple as running to the store for a forgotten sippy cup. From baby and toddler to tween and teen, forgetting a favorite stuffed animal, comfort snack or bedtime book can derail a trip.
Luckily, that won't happen to you with this list of essentials to make sure you've got everything kids will need on your trip — plus every meal, bath and beach day in between.
On the Go
Stroller: Whether you opt for your full-size stroller so you can use the storage space underneath or use a streamlined travel stroller, you'll want to have one for long sightseeing days and hoofing it around the airport and hotel.
Car Seat: You can get away without this one if your babe is a lap infant and if you're only taking public transportation on your trip. If you do bring a car seat, a padded backpack-style car seat bag is a must to keep your hands free in the airport.
Carrier: One of the best parenting travel hacks is to check your stroller and car seat and just wear your baby in the airport. A carrier that can support kids up to four years old is also handy for non-stroller-friendly activities like hiking.
Paperwork: Birth certificates are a must (even for domestic travel), and a passport is necessary from birth to travel outside the United States. If you're a two-parent family and you're traveling without your child's other parent, you may also want to bring a signed, notarized letter from them approving your travel.
Chow Time
Bottles / Sippy Cups: Bring enough bottles per day so that you have a fresh one for each meal. You won't want to take up precious vacation time washing bottles constantly. Also, a small amount of dish soap and a bottle brush will come in handy.
Formula / Breastmilk: Powdered formula is A-OK with the TSA, though ready-to-feed formula is suggested for your travel days. Just let the TSA agent know you're carrying formula or breastmilk so the agent can do a quick check at security.
Snacks: The last thing you want to hear is "I'm hungryyyyyyy" when the only thing available is a $16 airport sandwich. Pack protein-filled snacks like cheese sticks, trail mix and peanut butter pouches.
Fun in the Sun
Swimsuits: For each person, pack one to wear and one to dry. That's the rule of thumb. The St. Regis Boutique has a collection that comes in irresistibly cute family-matching patterns, too.
Sunscreen: Don't leave your room without it. For babies younger than 6 months, a zinc-based sunscreen is fine. After that, get the best you can and apply liberally and often.
Beach Bag: Schlepping everything down to the beach can be a haul without the right bag. The Ritz-Carlton Canvas Beach Tote and Picnic Cooler Backpack are both functional and beautiful.
Wash the Day Away
Robes: There's nothing quite as comforting as a cozy bathrobe to wind down in after a fun day. The St. Regis Frette robe collection, which comes in toddler, kid and teen versions, is perfectly plush.
Bath products: Parents can enjoy the luxurious bath amenities provided by the hotel, but little ones should have their own products free of fragrance and gentle on skin.
Inflatable tub: The best thing about inflatables is that they take up very little space. A blow-up tub will come in handy, especially if your hotel room only has a stand-up shower.
Sweet Snoozing
Crib or toddler bedsheet: Don't underestimate the power of a few creature comforts that smell like home. See also: sleep sack.
Blackout tent or crib cover: Expensive blackout tents work great, but less expensive nylon covers that stretch over a pack-and-play work great, too, for when it's bedtime for the littles but you want to stay up for one more glass of wine.
Fuzzy socks: Ultrafuzzy slipper socks make everywhere feel like home. Alternatively, a super-soft throw like the Curated by JW Herringbone Throw is a snuggle-time shoo-in.
Pacifiers: Pack every paci you have and put them in various places: diaper bag, carrier pocket, beach bag. You'll lose half of them during your trip and be so grateful you have the other half.
Just in Case
Medicines: Parents joke about "packing a pharmacy," but in far-flung locations where you might not have access to a drugstore, it's good advice. Our favorites: Children's Tylenol, saline nasal drops, a bulb aspirator and gripe water.
Thermos: Filled with hot water, this can be a lifesaver for a parent whose baby isn't fond of cold or room-temperature formula or breastmilk.
Fan: Tropical locations and far-flung destinations might not have the air conditioning your kiddos are used to. Bring a cordless rechargeable fan to keep the air fresh.
Leave These at Home
White-noise machine: Download a white-noise app on your phone or tablet to replace this sometimes bulky piece of gear.
Toys: Older kids will be pleased with screen time or coloring/activity books that don't take up much space. For babies, they'll play with just about anything. For the inevitable rainy afternoon, you'll love the space-saving rollup Backgammon Set from Le Méridien.
Diapers: Diapers take up so much room in your luggage. Instead, pack as many as you think you'll need for the trip in your diaper bag — and that's it. Before you leave, order a pack to be delivered to your hotel before you arrive. Alert the front desk, and they'll make sure you receive them at check-in.