Tips + Trends
Traveling for Work and Play? Pack These Bleisure Travel Must-Haves
By

Sucheta Rawal
Combining business travel with leisure (bleisure) does not have to be complicated. Whether you are extending your work trip to explore your destination or interweaving work and play, having a well-packed suitcase will give you the convenience and flexibility to be productive and adventurous.
Check out these strategic packing tips for your next bleisure trip so you can hit the ground running without a hitch.
Choose Versatile Clothing
To avoid overpacking for dual-purpose travel, pick layered, neutral colored, lightweight and stylish pieces that you can mix and match for casual and formal events. Versatile and wrinkle-free fabrics such as merino wool or synthetic blends will make it easier to wash your clothes on the go and avoid ironing or dry-cleaning charges.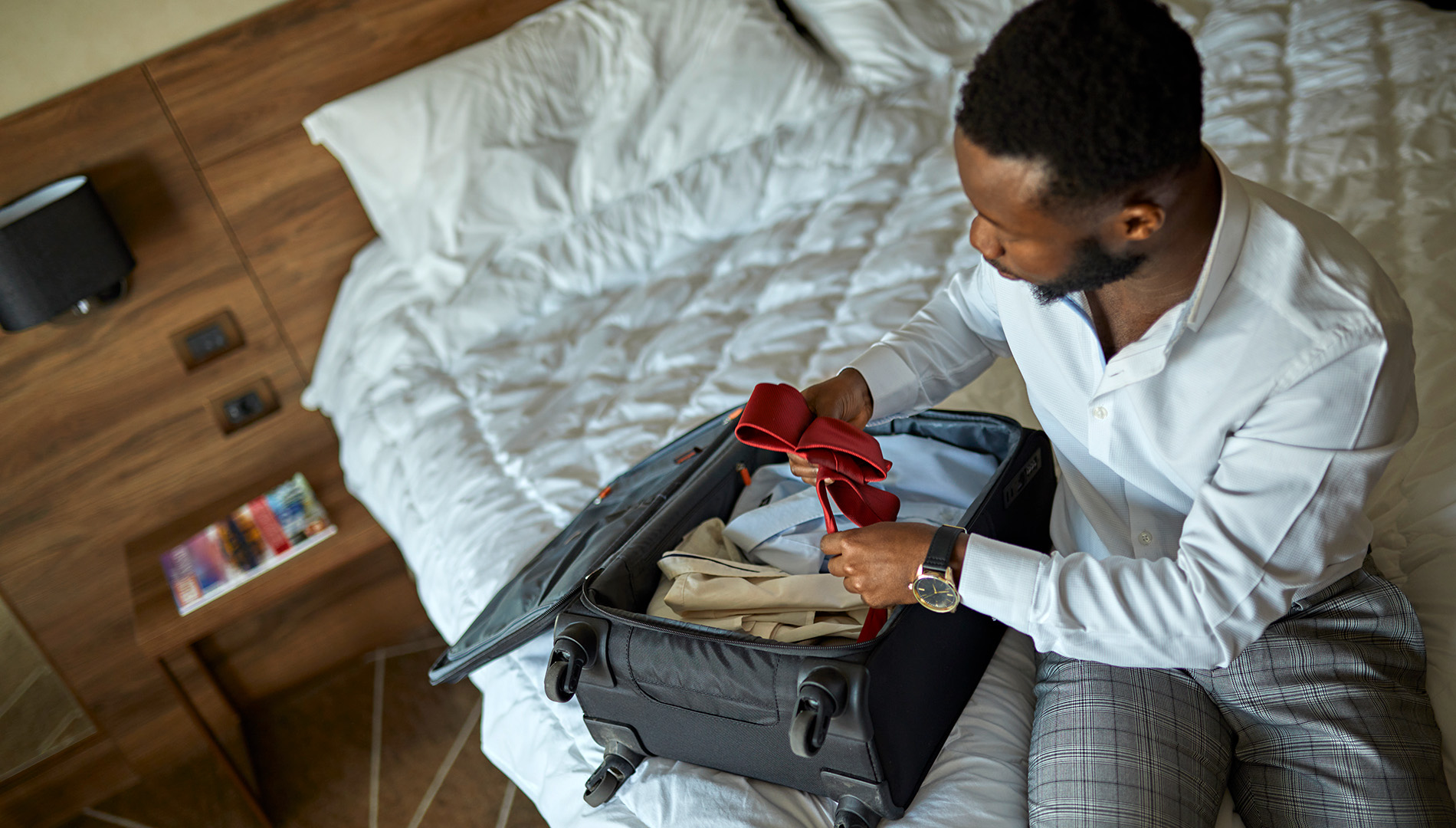 For example, the Gramercy Blazer is machine-washable and antiodor. It serves as an extra layer on the plane and makes you look businesslike in the boardroom and fancy for a nice night out. A chic black dress can be worn with a jacket by day and statement accessories by night. Also, pack a pair of athletic pants that can work in the gym or yoga class, on travel days or just lounging in your room. Bottom line: Pack what makes you feel confident and comfortable and you'll be ready for anything.
On-the-Go Fashion
It may seem hard to be fashionable when you only have limited space to pack. The solution? Express yourself through accessories, like R. Riveter's Patton Rosie Bandana handbag.
This trendy bag can be worn three ways (as a shoulder bag, crossbody or clutch), makes a fashion statement and is extremely lightweight, weighing in at .73 pounds.
Made in America using cotton fabrics, these bags are produced through a program that supports employment for independent military spouses.
Hidden Chambers
Carrying a soft, sophisticated scarf can accessorize any outfit, act as a cover-up and some can even hold personal belongings so you don't need to carry an extra bag.
Opt for a scarf that includes a secure hidden pocket for storing small essentials like keys, cash or a passport, ensuring their safety during your adventures.
One Bag, Many Ways
Need a briefcase for work, a backpack for hiking and a tote for a shopping trip?
Instead of packing multiple bags, get the sleek Journey System from Idea Mountain backpack that separates into five different bags (including a removable laptop sleeve, a toiletry kit and a hip pack), allowing you to switch bags quickly without having to reorganize.
The Right Luggage
A lightweight carry-on bag such as Osprey's Ozone 2-Wheel Carry-On will allow you the flexibility to speed through public transit and avoid airport check-in lines, saving valuable time.
Even better, you don't have to worry about delays and lost luggage. Whatever bag you choose, make sure it's durable, with sturdy wheels and handles.
Shoes for All Occasions
If you often make the mistake of packing too many or too few shoes, pack just one pair of Cambiami leather sandals or wedges customized with an assortment of interchangeable straps (there are 50 to choose from).
You can swap straps to match your outfit, and the extra-padded insoles make your walk to the beach or a restaurant comfortable and fashionable.
If you plan to go hiking, white-water rafting or kayaking during your downtime, pack a pair of Chacos. These sporty unisex sandals are made from sustainable materials and offer a lifetime warranty.
Hyper Arch Motion's comfy sneakers with breathable mesh material and a "Re-Memory Foam" insole are sleek enough to pair with any outfit and sporty enough to withstand walking through busy airports, hitting the gym or strolling through a neighborhood park.
Keep Your Wallet Full (of Charge)
With long hours on the road, you will want to make sure your devices are charged at all times.
Instead of lugging chargers and adapters everywhere, pack a ChargeCard, a super-slim portable charger the size of a credit card that fits in your wallet.
Cables are built in and charge both iPhones and Androids. Keep the ChargeCard in your wallet at all times so you always have a boost wherever you go.
Organize Your Technology
A technology organizer, such as the Bagsmart Athena Electronic Organizer, will not only help keep track of all your cords and devices, it will save you time and unnecessary stress so you can focus on more important tasks.
Dedicated compartments for cables, SD cards, cell phones, etc., ensure everything is safe and dry. To avoid carrying multiple chargers, invest in a universal travel power adapter.
Other must-haves in your technology packing should include an RFID-blocking wallet, Air Tags for tracking your bags, a power converter, battery pack and noise-canceling headphones to unwind.
Detox on the Go
Take a quick reboot between meetings or relax your mind to get a good night's rest.
Designed by Dr. Patrick Porter and a team of scientists, the BrainTap LED visor and headset use auricular therapy and immersive audio to reduce stress and increase productivity so you can be your best, on and off the clock.