Charleston
Charleston's Hidden Secrets Revealed: An Insider's Guide to the Holy City
By

Stephanie Hunt
Charleston's downtown and historic district reward the meanderer. It's a city for the senses, and one best explored by foot or on bike, at a pace where you can pay attention to details — the intricate cornice work on an antebellum abode, the whiffs of jasmine behind a wrought iron gate.
The Renaissance Charleston Historic District Hotel is ideally situated in the heart of the Ansonborough neighborhood — the birthplace of historic preservation in America — and within easy walking distance of King Street shopping and award-winning restaurants, yet still within quaint neighborhoods where authentic Charleston charm abounds. If you need proof, simply walk around the corner along Anson or Society Street and feast on the buffet of outrageously blooming window boxes.
You won't go wrong hitting the more well-known tourist destinations, such as the South Carolina Aquarium, the Historic Charleston City Market or the Nathanial Russell House Museum, but the true essence of Charleston is found when you look beyond the obvious.
Charleston, with its storied past and architectural finery, is still very much alive. Your Renaissance Hotels Navigator — a twist on a traditional hotel concierge — will personalize recommendations and steer you toward some hidden gems, where you'll find more locals than tourists and get a feel for this living, breathing city.
Explore Waterfront Park
Waterfront Park is the peninsula's front yard — eight acres of breezy open space along the Cooper River with gorgeous views of Charleston Harbor. Stroll along the promenade, pause on a shady park bench or bask in the sun and watch for dolphins.
Dip your toes in the iconic Pineapple Fountain, and be sure to pop into the Waterfront Gallery, the City's art gallery featuring rotating exhibits, right across from the Pineapple Fountain. Insider's tip: The bench-swings out on the pier are perfect for sunset watching.
Meet the Farmers
There's a reason why the Charleston Farmers Market at Marion Square has been ranked one of the top 10 farmers markets in the nation. Local farmers, food vendors, artisans and artists offer the best local low country ingredients and souvenirs.
Find locally roasted coffees, bakery samples, fresh flowers and fresh everything else. Plus, it's terrific people-watching. Note: The market is open Saturdays from 8 a.m. to 2 p.m., April through November.
Get on the Water
The Charleston Water Taxi is a fun and inexpensive way to see Charleston from the water, enjoying views of the harbor and the stunning Ravenel Bridge, and it's a quick and pleasant hop over to Mount Pleasant, where the USS Yorktown is docked at Patriots Point.
From there, call a ride-share and go 2.5 miles to Shem Creek and Mount Pleasant's Old Village to shop at Out of Hand, Elizabeth Stuart Design and the Charleston Artist Collective before returning via Water Taxi.
Get Raw
Just around the corner from the Renaissance at 289 East Bay Street, you'll find 167 Raw, a great spot for local seafood at a reasonable price for lunch or dinner. Don't let size fool you. 167 Raw may be tiny, but it goes big on fresh seafood.
Enjoy a wide array of fresh oysters, fish tacos, outrageous lobster rolls and other fresh catches. Insider's tip: They don't take reservations, so aim for an off hour if possible.
Biscuit Time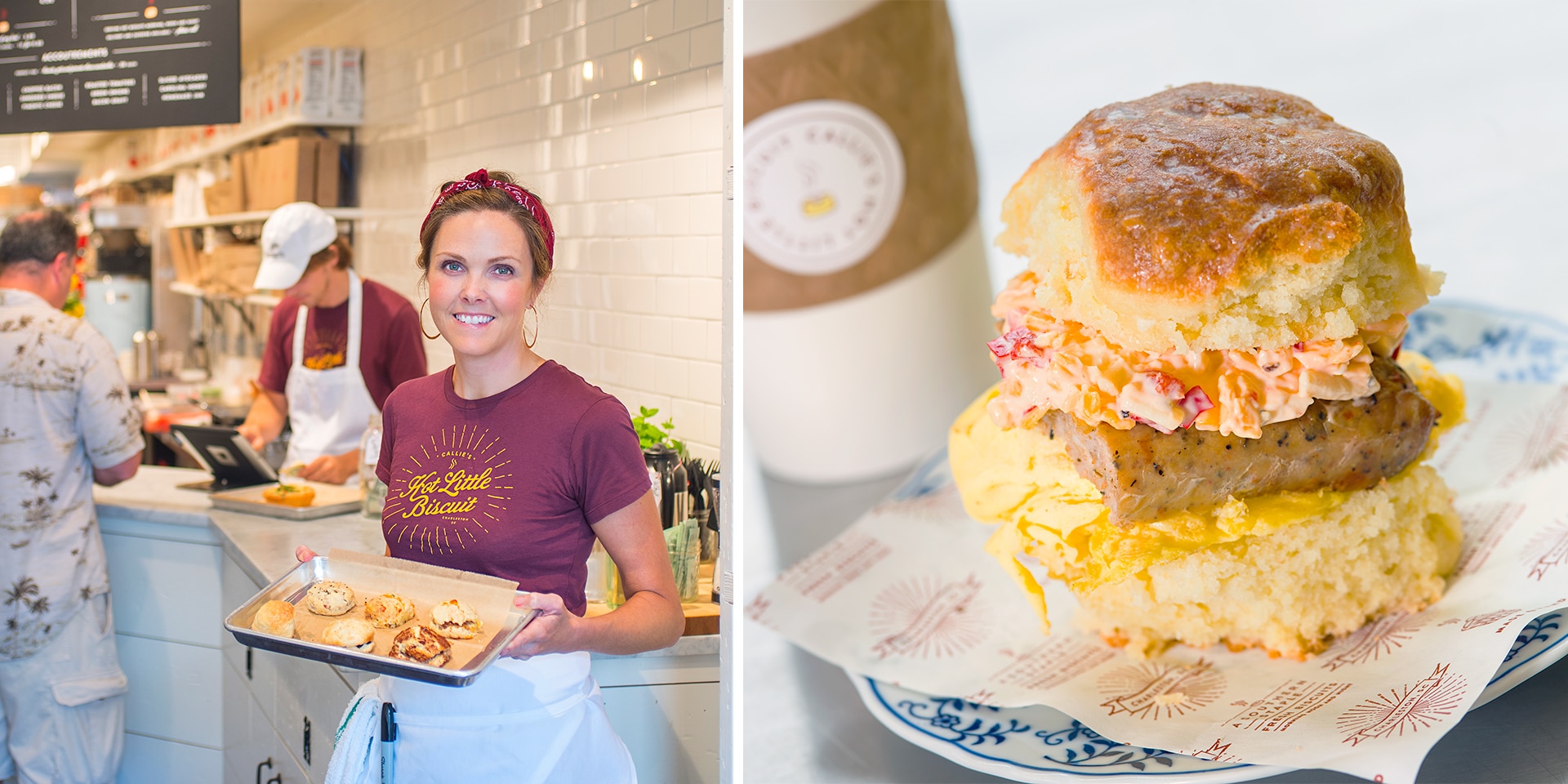 Talk about decadent … and a taste of pure Southern goodness. There's nothing quite like a fresh-baked, steam-fluffy, perfectly golden biscuit. And no one makes them more perfectly than Callie's Hot Little Biscuit — the cutest teeny storefront on King Street, not to mention the best deal in town: $5 for a sampler three-pack. Though we're betting you'll want more.
Candlefish
If you're looking for a unique activity and fun souvenir, head to nearby Candlefish on the corner of King and Wentworth. At their candle-making workshop, you can recreate the sweet scents of sweetgrass baskets or magnolia blossoms and then take your candle home with you. Candlefish celebrates all things olfactory, with a heavenly library of 100 exclusive (many low country specific) scents.
Art Lovers Stroll
Charleston's French Quarter, with its cobblestone streets and quaint storefronts, is an art lovers paradise. Start at Robert Lange Studios on lower Queen Street for impressively realistic oil paintings and a welcoming "art is for all" vibe.
Further up Queen Street, Anglin Smith Fine Art features local artists; then, on Meeting Street, you'll find the Gibbes Museum of Art, with its world-class collection. On Broad Street, Neema Gallery presents excellent African and African American art.
Bar Gems
If you're craving a cocktail after a full day of exploring, the bar at acclaimed Husk Restaurant is tucked in an authentic Charleston outbuilding (adjacent to the main restaurant, no reservations needed!) full of character and tasty Southern spirits.
Wine enthusiasts will want to check out Bin 152 on King Street, with more than 40 wines poured by the glass in a cozy, French-inspired café setting (cue the artisan bread and cheese), or Graft, on the other end of King, a hip new spot run by two passionate sommeliers. The Cocktail Club is the go-to for imaginative and sophisticated spirits in an equally enchanting ambience, with a rooftop bar to boot.
Discover genuine local experiences at our 160+ hotels worldwide by visiting RenHotels.com.