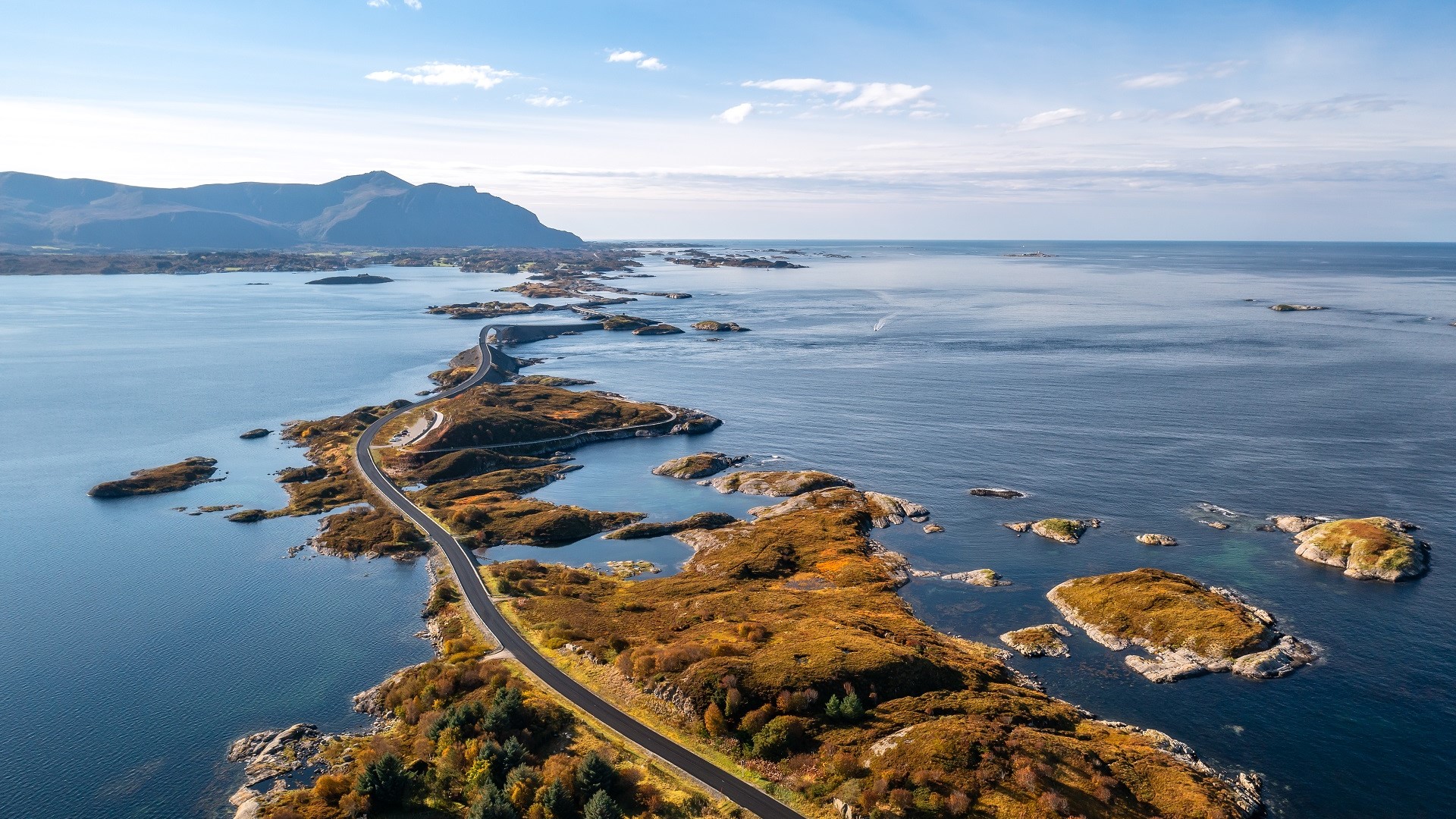 The Nordic countries — Denmark, Finland, Iceland, Norway and Sweden — are perfect road trip territory. Promising a rich variety of epic landscapes, you'll cross snowy mountains, green forests and cinematic fjords in the space of a few hours — and when it's time to rest, you can lay your head in sleek capitals like Stockholm and Oslo one night and quaint fishing villages like Norway's Balestrand another. Ready for the trip of a lifetime?
Exploring Epic Volcanic Landscapes in Iceland
Iceland is known as the Land of Ice and Fire for very good reason. Here, you'll see smoldering lava fields; there, vast glaciers and plains of snow — all punctuated by steaming geysers and seething hot springs. The end result is one of the most startlingly beautiful countries on Earth, and the towns and cities along the way are charming and full of character.
You'll begin in the capital, Reykjavik, where the streets are vibrant with colorful murals and diners feast on seafood in sleek restaurants — you might sample hákarl, the local delicacy of fermented shark. While in town, you can relax ahead of your adventures at gorgeous open-air bathing pools like the Sky Lagoon. This is also where you'll find many of the country's finest hotels, among them sleek, contemporary The Reykjavik EDITION.
Iceland's premier road trip, possible to complete in a day, is known as the Golden Circle. The first stop is Gulfoss, a mighty double-tiered waterfall said to hide mythical treasure, while the apex of the route comes not long afterwards at Geysir, the archetypal geyser, whose subsidiary Strokkur regularly erupts in a pillar of steam.
The other main attraction in the Golden Circle is Thingvellir National Park, a stunning landscape of black volcanic earth where you can walk between two tectonic plates. Indisputably the best hotel for access to the national park is the architecturally stunning ION Adventure Hotel, Nesjavellir, a Member of Design Hotels™, which offers views worthy of the description 'breathtaking', sleek, modern rooms, and a restaurant that specializes in local food.
You may well be picking up a rental car at Reykjavik's main airport, in which case a great choice of accommodation is Courtyard by Marriott Reykjavik Keflavik Airport. As well as being convenient for your road trip adventure, the hotel is a pleasure in itself, with a bright, spacious ambience.
A tour of Scandinavia's great cities
For all Scandinavia's vast expanses of wilderness, it's surprisingly easy to take in a few of the region's best-known cities in one relatively short road trip. Begin in Copenhagen, the capital of Denmark, where stately streets are lined with elegant architecture and bakeries offer some of the most mouth-watering pastries you'll find anywhere.
Explore the themed areas and funfair rides of Tivoli Gardens before sampling the trendy bars and restaurants housed in the shipping containers of the Meatpacking District, then head to Copenhagen Marriott Hotel, a classic of understated luxury on the city's riverfront.
Taking to the road, you'll cross the border into Sweden in serious style as you drive along the Øresund Bridge, running some five miles across the Øresund Strait.
You'll find yourself in the lively Swedish city of Malmö, where the beautiful Renaissance buildings of the Old Town sit side-by-side with the ultra-modern architecture of the waterfront, and the galleries of the Malmö Museer showcase Swedish art, architecture and history.
From Malmö, it's a drive of around five hours to Oslo, Norway's culture-rich capital. Those of an artistic inclination will love the Edvard Munch Museum, while literati will find much to divert them in the former home of Henrik Ibsen, now a museum dedicated to the playwright's life and work.
To pick up a one-of-a-kind souvenir, check out the flea market Vestkanttorget, which is held every Saturday close to Frogner Park. The coffee and waffle stands here are some of the best in Oslo. One of the best places to stay in town is Moxy Oslo X, a vibrant, modern property whose style perfectly reflects Oslo's character.
A Fjordland adventure
It's not difficult to see why Norway's southwestern corner is known as Fjordland. Its coastline resembles cracks on the surface of an icy lake, each one a fjord or inlet home to stunning scenery. Begin in Bergen, the 'capital of the fjords', where you'll also find a stylish sanctuary at Moxy Bergen, a lovely landmark on the city's waterfront.
Take the scenic route north from Bergen, following a road that hugs the Geirangerfjord, affording jaw-dropping views of the craggy fjords as you maneuver mountain passes, forested hills, and knuckle-whitening cliffside hairpin bends.
Make a well-earned rest stop at the fjordside village of Balestrand, perhaps leaving time to hike in the hills or explore the fjord in a kayak, before continuing on to the elegant town of Ålesund, famed for its Art Nouveau architecture, where you can also get an insight into traditional coastal fjord life at the Sunnmøre outdoor folk museum.
Other unmissable road trips in Norway include the Atlantic Ocean Road, which runs for more than 8km (over 5 miles) along a string of islands, passing some of the country's most rugged and windswept coastline.
Inland, you can feed your imagination by driving along the Trollstigen mountain pass, a winding road through landscapes said to be home to mythical trolls — there are even road signs warning you not to wake them up!
A trio of capitals
This epic Nordic road trip allows you to take in three capital cities in comparatively quick succession. Begin in Oslo, where you can check out some fantastic museums and enjoy the comfortable accommodation and warm reception offered by Moxy Oslo X.
Then, take to the road and head east across Sweden, stopping off at the photogenic lakefront town of Karlstad. Said to be among the sunniest towns in Sweden, this is a lovely place to enjoy a spot of lunch beside the lake. There are also lots of places you can swim around Karlstad, with (comparatively) warm water lapping sandy beaches.
Continue east to Stockholm, where, at the end of a long, exhilarating day's drive, you'll be delighted to arrive at the Sheraton Stockholm Hotel, a classically luxurious property home to stylishly modern rooms with a Scandi touch.
Spend your time here exploring Stockholm's historical treasures, like the royal palace and surrounding buildings of the Gamla Stan district, and feasting on the very best Swedish food — pickled herring, meatballs and räkmacka (open prawn sandwich) are all must-tries.
The final leg of your journey sees you drive an hour or two north to the port of Kappelskär, then board a ferry to Naantali in southwestern Finland, a couple of hours' drive from the capital, Helsinki.
This is another Nordic capital home to some stunning architecture, such as the rock-hewn Temppeliaukio church, and fantastic food foraged from the surrounding countryside at restaurants like Magu.
You'll need a comfortable base for this final leg of your journey, and there's nowhere better than Hotel St. George, Helsinki, a Member of Design Hotels™, a gorgeous hotel housed in a historic building.
Touring the best of Denmark
It's possible to drive across Denmark in a day, but it pays to take your time and really savor the highlights of Scandinavia's southernmost nation. Begin in the capital, Copenhagen, which is the most celebrated culinary hotspot in the region — among the city's fifteen Michelin-starred establishments is Noma, often named as the finest restaurant in the world.
The hotels are special, too — at The Socialist, a Tribute Portfolio Hotel, you'll find stylish rooms housed in a converted electrical station. Alternatively, consider the neighborhood of Sydhavnen that is Moxy Copenhagen Sydhavnen or — especially if you're collecting your car at the airport — the convenience and sleek modern design of AC Hotel Bella Sky Copenhagen.
From Copenhagen, make the short drive west to Odense, Denmark's third-biggest city. This is the hometown of legendary children's author Hans Christian Andersen, whose life and work you can explore at the HC Andersen Museum; other highlights include Den Fynske Landsby, an open-air museum village replicating life in the 1850s.
It's a couple of hours' drive north from Odense to your last stop, Aarhus. Denmark's arty second city is known as "Smilets" — the City of Smiles — and it certainly has a cheerful feel, typified by the rainbow-hued glass of the ARoS art museum and the pastel cottages of Møllestein.
Architecture is often the first thing that catches the eye here, with the spiky glacial peaks of the Isberget apartment block and the skeletal clocktower of the Rådhus town hall turning visitors' heads.
Food lovers, too, will find much to satisfy them in Aarhus — in the upscale foodie district of Frederiksbjerg, restaurants like Hærværk have won acclaim for their New Nordic cuisine, a celebrated culinary movement which combines foraged seasonal ingredients with artfully gourmet presentation.
Hitting the road soon? Use Road Trip Search* to book hotels along your route, find pet-friendly properties, on-site EV charging, and more – only on the Marriott Bonvoy® App. Download today.
*Road Trip Search feature only available on iOS.