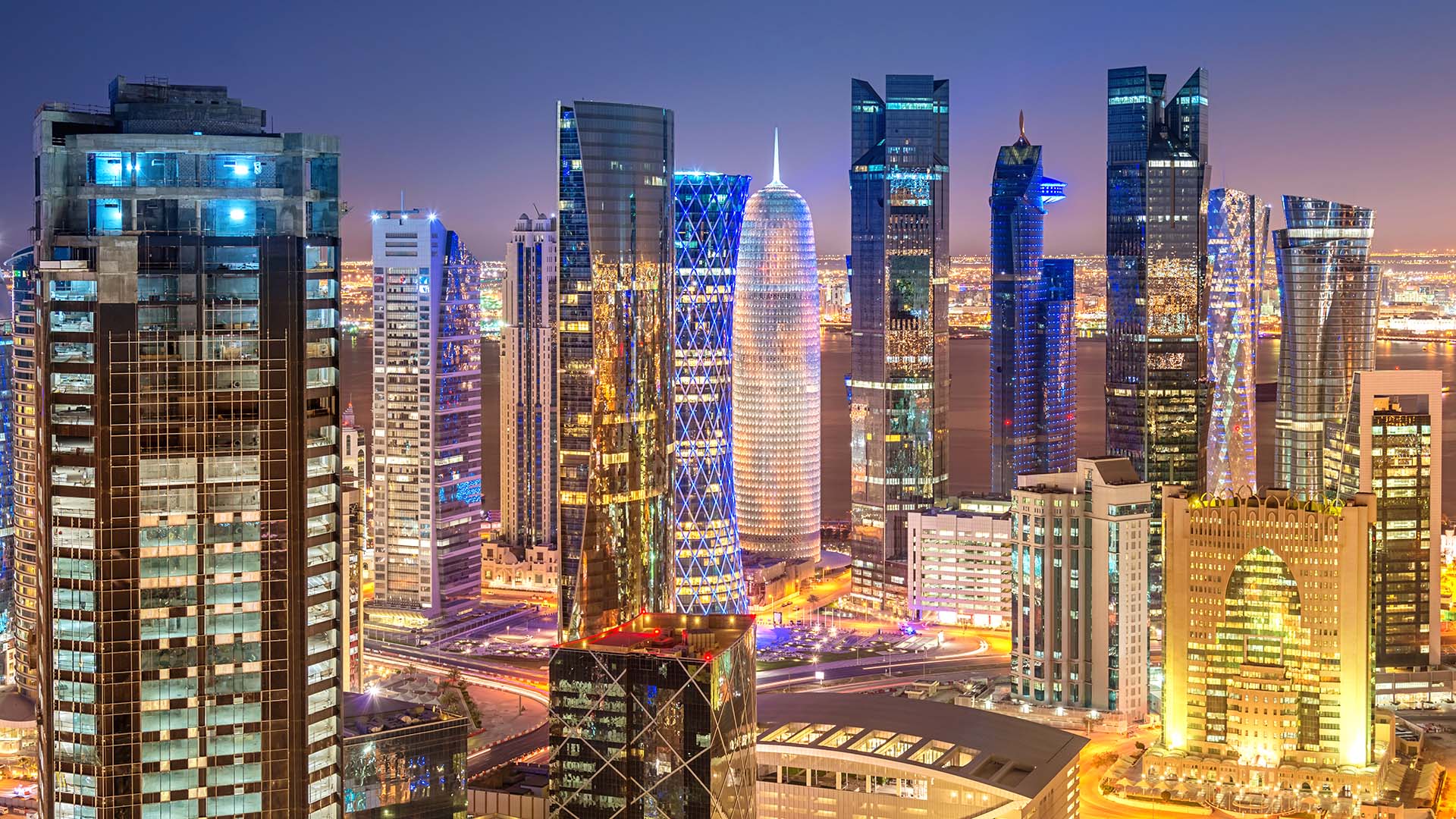 As the sunset sky shifts from pink to purple and a gentle breeze blows in from the Persian Gulf, it's hard not to get swept up in the glittering romance of Qatar. A couples trip here can be either laid-back or action-packed, but you can bet it'll be luxurious.
From the dimly lit, lantern-strewn souks to the candlelit fine dining date spots, Qatar is an ideal place for quality one-on-one time with your partner.
As always, check for travel restrictions and closures before planning your trip.
Board a Sunset Dhow Cruise
Traditionally, Qatar's handcrafted wooden boats, called dhows, were used for pearling and fishing. Today, a trip on one is one of the most romantic things couples can do while on a visit.
Hop aboard just before sunset and watch the colors of the city shift as night falls and the expansive city lights switch on, one by one. Then sit down for dinner and traditional music and dance as you glide around the bay.
Explore Qatar's Souks and Spices
Spice things up with a trip to Qatar's famed Souq Waqif. Dating back hundreds of years, and renovated in 2006, it's one of the country's most beloved heritage sites.
Stroll the snaking alleyways past crowded shoe shops and spice stalls selling fresh turmeric and cumin. Stop for a cup of karak chai, fragrant cardamom tea, sold at stalls around the market.
The souk's jewelry street is the perfect place to pick out something gold and glittery for your partner — a special souvenir to remember your trip.
Kayak in the Mangroves
At Al Thakira Mangroves, you feel like you've touched down in an entirely new country. Perfect for the active couple, a kayak through Qatar's oldest wetland forests showcases a totally different side of this desert nation.
On a guided tour, you'll spot fish and flamingos migrating through the white and gray mangroves. Just be sure you and your partner slather each other in sunscreen first.
Plan a Romantic Dinner
If the gateway to your significant other's heart is through their stomach, Qatar has you covered. Its restaurant scene is as diverse as its growing population, so you can feast on just about anything, from Chinese dim sum to traditional Persian soup.
For a special occasion, rent the private dining pavilion at the Sheraton Grand Doha Resort & Convention Hotel. With sweeping views of the Persian Gulf, this epicurean meal is as ultra-romantic. At the JW Marriott Marquis City Center Doha, you can book its rooftop helipad for a a once-in-a-lifetime dining experience with a 360-degree panoramic views of the city at sunset.
Among the city's most exciting restaurants are the Latin American COYA and the Southeast Asian Spice Market, both inside the W Doha and both perfect for foodie couples. If you're into Chinese food, split the Peking duck at award-winning Hakkasan in the gardens of The St. Regis Doha.
Pamper Yourself and Each Other
There's no better way to decompress and unwind with your partner than a trip to the spa. So book a therapeutic couples massage, using thoughtful Qatari influences and modern European practices, at The Ritz-Carlton Spa Sharq Village, Doha.
Or make a day of it and head to Al Messila Spa inside Al Messila, a Luxury Collection Resort & Spa, Doha. This sprawling wellness hub with a massive pool and a hammam will leave you poised for a sublime scrub down.
Jump on a Jet Ski
At the Sheraton Grand Doha Resort & Convention Hotel's private beach, thrill-seeking couples can rent a Jet Ski for an hour and zip around the crystalline waterways near the resort.
Marvel at the countless futuristic, mirror-clad buildings shooting out of the sand as you zoom by at 30 mph. Hold on tight to your partner, and most importantly, enjoy the ride.