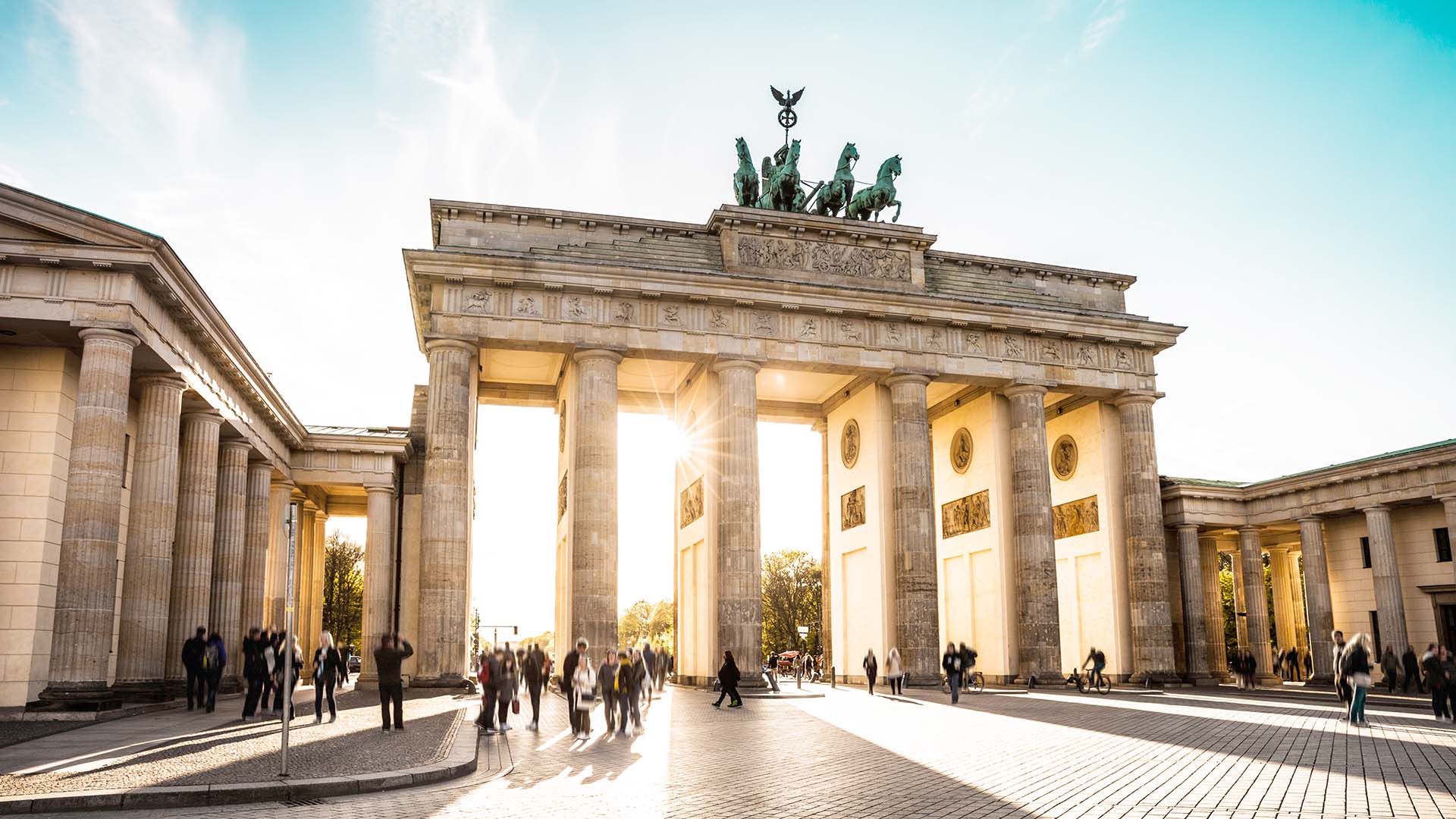 From learning the art of Sicilian cheesemaking to taking an artistic walk down memory lane in Madrid and exploring an underground tomb complex in Egypt, inspiring and unexpected experiences abound even in the most visited locales.
Satisfy your desire to always keep exploring at these 10 noteworthy destinations across Europe, the Middle East and Africa.
As always, check for travel guidelines and closures before planning your trip.
Berlin, Germany
Most people head to Berlin to check out its world-class museums, thriving nightlife and flourishing counterculture scene. But if you're looking to experience life like a true Berliner, look beyond the city's most popular neighborhoods.
Instead, focus on Berlin's kieze (microneighborhoods) like Oderberger Strasse. Located within the former bohemian East Berlin enclave of Prenzlauer Berg, this hip micro-neighborhood is teeming with unique dining spots, like Bar Normal and Kanaan; culture; and vintage shopping — the Sunday flea market at Mauerpark happens to be one of the city's biggest.
Wales, UK
Bordered by the Irish Sea to the west and England to the east, Wales is etched by a natural landscape that's nothing short of jaw-dropping. Endless stretches of craggy cliffs and unspoiled coastline make way for vast swaths of bucolic countryside dotted with castles. With more than 400 of them, it's no wonder why Wales, called "Cymru" in Welsh, was bestowed with the moniker "Land of Castles."
But for a taste of Welsh city life, head to Wrexham in the country's northeast.
The town emerged as a tourist hot spot after Hollywood celebs Ryan Reynolds and Rob McElhenney purchased the local football team. After a Wrexham AFC game, climb the steeple at St. Giles' Church — it's one of the Seven Wonders of Wales — for bird's-eye views of the city's medieval streets below.
Sicily, Italy
For an offbeat Sicilian adventure, opt for an immersive travel itinerary by The Heart of Sicily. You'll head away from the island's picture-perfect coast and into its interior where artisan cheesemakers, stone villages and the soaring Madonie mountain range await.
Meanwhile, on Sicily's eastern coast, Taormina beckons fans of HBO's hit show "The White Lotus." The meandering streets, relaxed cafés and crystal-clear beaches of this picturesque hilltop town make it the perfect base for travelers looking to experience a slice of Italy's famed dolce vita.
Loire Valley, France
France's longest wine route may make it a popular destination for wine lovers, but 2023 kicked off another major draw: the 600th birth anniversary of Louis XI. Serving as king from 1461 until his death in 1483, "Louis the Prudent," as he was commonly referred to, played a major role in uniting the country, and his legacy remains in the region.
Immerse yourself in four centuries of French history during the Spectacle Son et Lumière at Château de Blois, an immersive sound and light show which runs April through September.
As night falls, the château's four courtyard walls light up with massive video projections — complete with sound and scent effects — depicting lives of the royals who lived here between the 13th and 17th centuries.
Masai Mara, Kenya
From July to October, the lush wilderness expanses of Kenya's Masai Mara National Reserve come alive as more than two million grazers — wildebeest, zebra and gazelle — travel north from Tanzania's Serengeti National Park in search of food and water.
After spotting elephants, lions and the other "big five" animals on a bucket-list safari drive, retreat to your luxe tented suite at the 2023-debuted JW Marriott Masai Mara Lodge, located at the edge of the reserve. Head to the outdoor viewing deck that overlooks the Talek River for refreshing sundowner cocktails by the fire pit at sunset.
Sharjah, UAE
Emirati culture shines bright in Sharjah, the UAE's third-largest emirate. A casual 30-minute drive from glitzy Dubai transports you to the Cultural Capital of the Arab World, a lauded UNESCO designation that Sharjah has upheld for more than two decades.
From contemporary art showcases at the Sharjah Art Biennial (held on odd-numbered years) to traditional architecture on display at the 18th-century Khor Kalba Fort and Majlis Al Midfa, Sharjah is a city that's full of unmistakable contrasts.
Immerse yourself in history at Bait Al Naboodah museum. Once the historic home of a leading pearl merchant, the museum now serves as a stunning example of coastal Gulf architecture with features like coral courtyard walls, built-in wind scoops (malaqaf) and intricate wood carvings throughout.
Madrid, Spain
There's no denying that Madrid is an art lover's dream. The Spanish capital's Golden Triangle of Art, along with its slew of 19th-century palaces-turned-luxury hotels, mansions and old houses-turned-museums, make it a worthy addition to any destination bucket list.
Repeat visitors, however, need not write this vibrant city's art scene off — the June 2023–debuted Royal Collections Gallery showcases an impressive collection of five centuries of art collected by Spanish monarchs, from the 7th century to the contemporary world.
And just 45 minutes southeast of Madrid is Chinchón, where Wes Anderson filmed 2023's "Asteroid City." Famed for its picturesque medieval plaza and outstanding cuisine, it's well worth the detour.
Fez and Chefchaouen, Morocco
Shades of blue, from sapphire and powder blue to cobalt and cerulean, have long drawn travelers to the meandering streets and narrow alleyways of Chefchaouen in northwestern Morocco.
After a day spent exploring the bustling city souk — market day is on Mondays and Thursdays — escape the crowds for Talassemtane National Park. Despite being just 25 miles outside the city center, you'll feel a world away as you hike through several impressive landscapes that include fir forests, cascading waterfalls and wadis.
For a step back in time (and a step into the filming location of 2023's "Indiana Jones and the Dial of Destiny"), head south to Fez, the oldest of Morocco's imperial cities. A cultural hub for millennia, the city is rife with inspiring experiences. Get a glimpse of the country's thriving leather industry with a visit to its oldest tannery, Chouara Tannery, located in the oldest part of the medina.
Then head outside the medina walls to Ain Nokbi to observe how the country's signature Moroccan tiles, known as zellige, are crafted by hand.
Parts of Morocco were heavily damaged in a September 2023 earthquake. Please check local travel advisories before planning a trip to the region.
Al-Ula, Saudi Arabia
Not only is the Adventure Hub in Al-Ula an unexpected haven for stargazers — it offers up some of the darkest night skies in northwestern Saudi Arabia — the surrounding landscape of rugged canyons, towering rock formations and wet wadis make for an otherworldly experience, whether you choose to spend it hiking, rappelling or staring straight up into the heavens. It's also the location of the first movie filmed entirely in Saudi Arabia, "Kandahar" (2023).
Even if exploring the great outdoors isn't your thing, anyone will be amazed by the striking rock-cut tombs and inscriptions at Hegra. Now a UNESCO World Heritage Site, the area was once a thriving Nabataean city along the country's ancient Incense Route.
Cairo, Egypt
Explore the treasures of ancient Egypt at one of Cairo's newest attractions, the Grand Egyptian Museum. Situated just a mile away from the Great Pyramids of Giza, it's the world's largest archaeological museum, housing a vast selection of Egyptian artifacts that include everything from a 30-foot statue of Ramses the Great to King Tutankhamun's renowned golden mask.
Continue on the pharaoh's trail with a cruise along the Nile. Your final destination? The Saqqara necropolis where archaeologists recently unearthed an ancient underground tomb complex and the restored Tomb of Djoser.