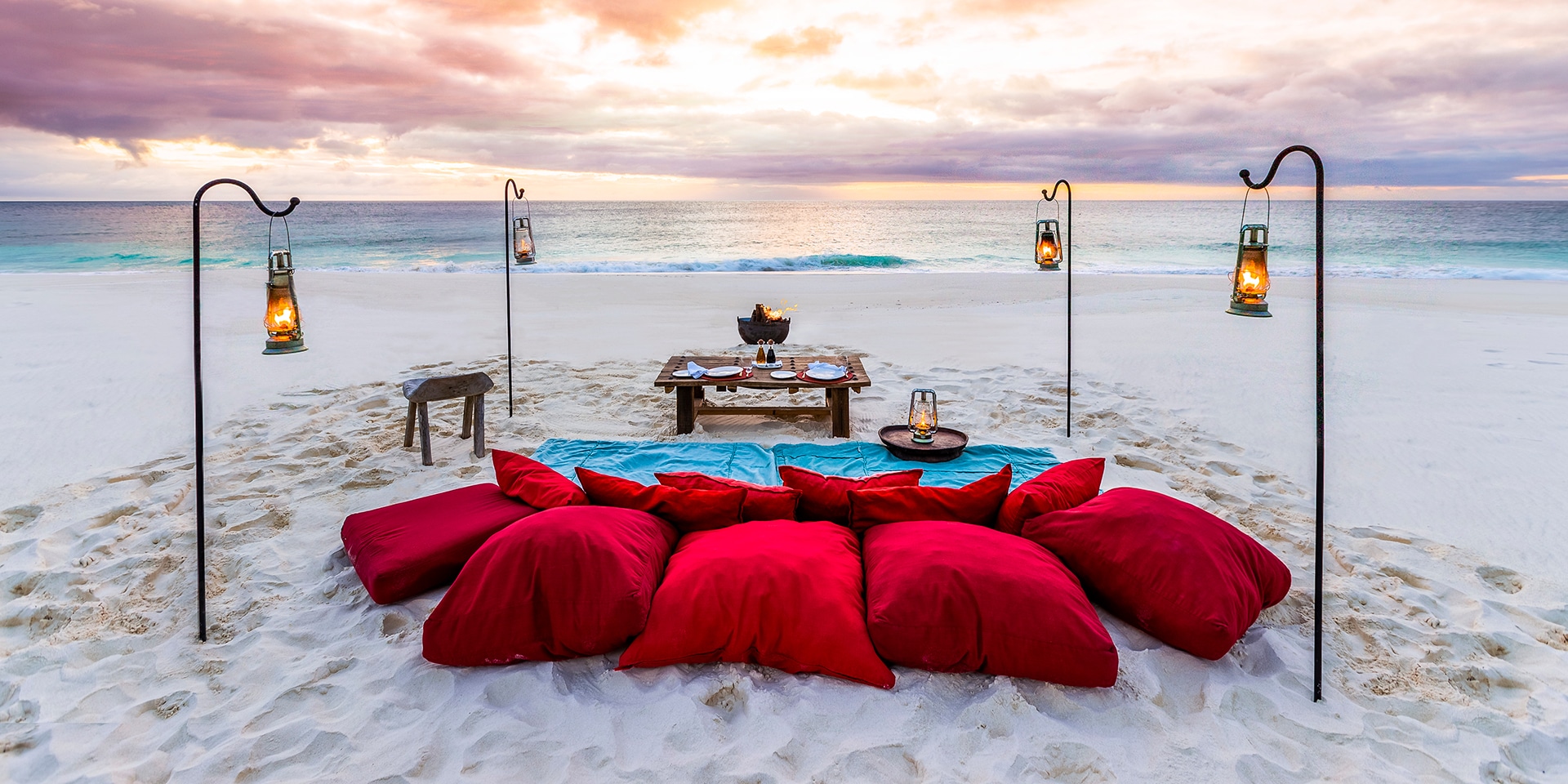 Beach Travel
Why the Seychelles Are the Ultimate Luxury Getaway
By

Isis Briones
There are luxury vacations, and then there's the Seychelles. The tropical paradise is an archipelago consisting of 115 of the world's most pristine islands. For those who can afford it, the country off the coast of East Africa is dotted with secluded ultra-high-end resorts complete with butler service and VIP concierges that promise the trip of a lifetime.
Despite tourism being at an all-time high, most of the area has yet to be explored. After all, there are hundreds of islands. Therefore, if you venture deep enough, you'll find many hidden seaside gems of unparalleled beauty.
Brace yourself for days of unforgettable experiences and views. In short, it's a vacation fit for royalty. (No, really. You'd be following in the footsteps of Prince William and Catherine, Duchess of Cambridge, who actually did take a romantic getaway in the Seychelles.)
As always, check for travel restrictions or closures before planning your trip.
Perfectly Private
If an escape is what you're looking for (like most of the Seychelles' A-list visitors), then you've come to the right place. Resorts tend to be marked by villas that are spread out and often offer private beach access.
The experience almost makes it seem as if there's no one else in the world. Given how remote the islands are, even the public beaches have little to no crowds, leaving all visitors feeling like VIPs all trip long.
Feel the Champagne and Sand Beneath Your Feet
Book a candlelight dinner by the beach. Depending on the property, it's possible to get a table set up right on the sand. No shoes, no problem. If not directly by the water, there are many resorts with seaside restaurants boasting perfect panoramic views of the Indian Ocean. On top of places to eat, there is no shortage of spas and pools that look out onto the ocean.
Fly High
Helicopter rides define luxury. (Just ask the folks at Blade!) Not only is a helicopter a quick way to arrive in style, it offers one-of-a-kind views that can't be achieved with anything else. If you splurge on a private island resort, there's likely a separate airport where you can access a chopper for an overwater adventure.
You've Never Seen Water So Blue
The Seychelles' sparse foot traffic — with many areas having barely been visited — has allowed nature to take its course. As a result, snorkeling, hiking and other outdoor activities are unlike any other.
The country's mostly untouched state makes for the clearest blue waters, like on the popular Anse Lazio beach. It's also filled with the lushest green jungles, which are home to the famous black parrot that can only be found on the islands. Make sure to keep an eye out and not let the monochromatic bird pass you by.
It's Smooth Sailing
If you didn't charter a yacht in the Seychelles, did you even go? The opportunities are endless on the islands, so take command of the sea and rent a boat for the day.
Whether you simply want to soak up some sun or go fly fishing, scuba diving or snorkeling, there are plenty of luxury catamaran experiences to choose from. Some of them even come with their own private chefs onboard who can prepare for you the freshest seafood dishes.
An A-List Affair
William and Kate reportedly renewed their vows right on the islands. In addition to the royals, a number of celebrity couples, including George and Amal Clooney, David and Victoria Beckham, and more, opted to spend their honeymoons in the Seychelles.
It's proof that there must be something in the water because the place was clearly made for romance. Plus, plenty of resorts have indescribable honeymoon packages taking the pain out of planning. For pairs really thinking of going all out, getting married on one of the islands is also certainly a once-in-a-lifetime option.