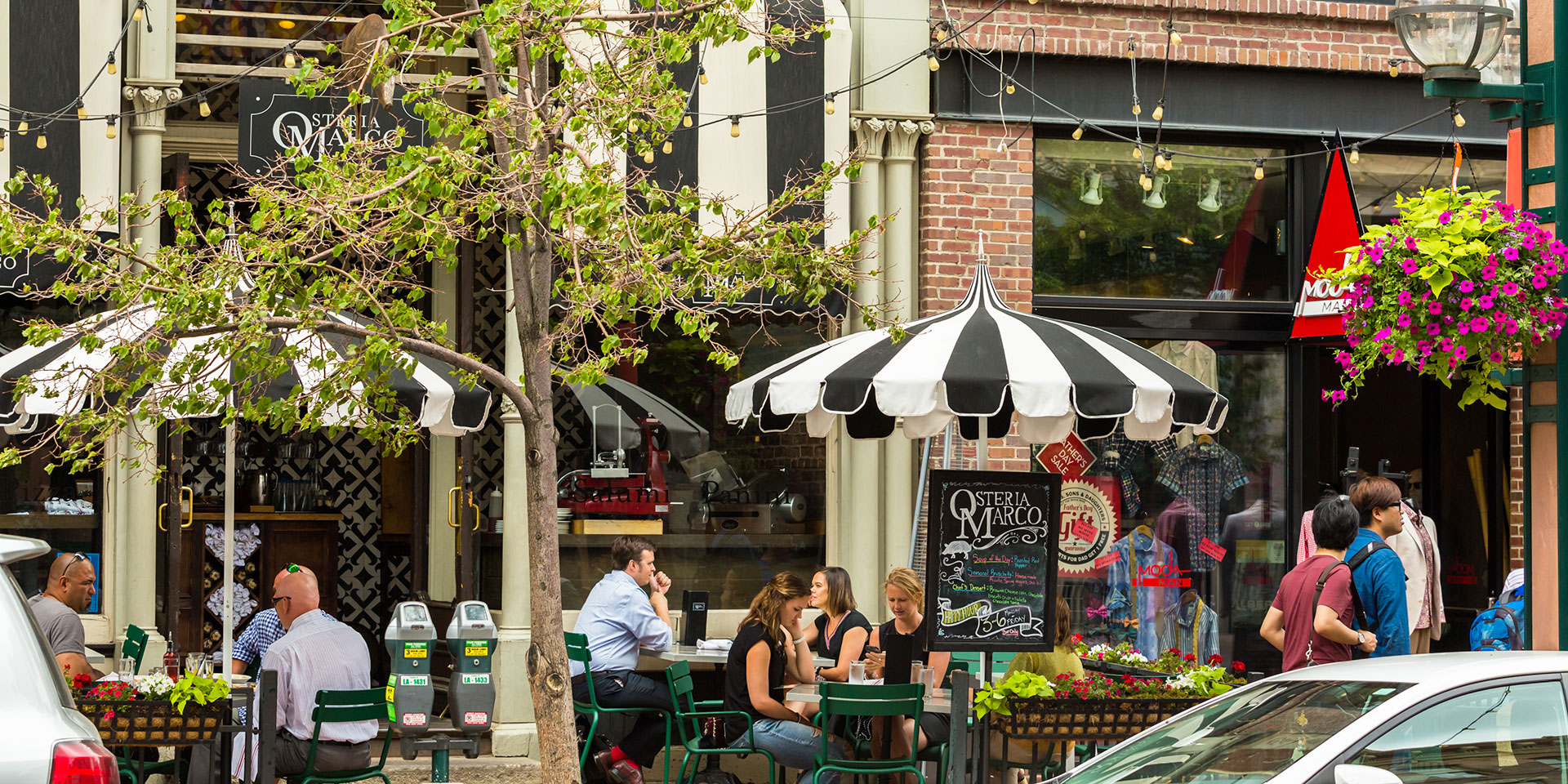 Denver
5 Denver Neighborhoods That Give a True Taste of the Mile High City
By

Jenny Shank
Visitors to Denver once zipped straight to the mountains or to its big attractions, such as the Denver Museum of Nature and Science and the Denver Art Museum. Now urban explorers are pausing to check out the Mile High City's unique neighborhoods, which are flourishing with appealing spots to shop, eat and relax.
Here are five neighborhoods that offer a taste of the real Denver.
LoDo
Pike's Peak gold rush miners founded Denver during the 1850s, building their shacks at the confluence of the South Platte River and Cherry Creek, in the heart of the neighborhood now called LoDo (short for "Lower Downtown").
Now kayakers run the rapids and cyclists zoom down the bike paths in Confluence Park, near the enormous REI flagship store in a historic building with a 47-foot indoor rock-climbing wall.
LoDo was once the center of Denver's milling industry, and many of the grand brick structures of that era have been transformed into restaurants, shops, lofts and businesses. High-spirited crowds throng the streets of LoDo whenever the Rockies play at Coors Field or the Colorado Avalanche or Nuggets host a game at the Pepsi Center, so dining, drinking and people-watching options abound.
The revitalized Union Station houses some of Denver's best restaurants, including the always-jammed breakfast joint Snooze, the savory farm-to-table establishment Mercantile Dining and Provision, and seafood bar Stoic & Genuine.
The Tattered Cover, Denver's legendary bookstore, has two locations in LoDo stuffed with cozy chairs and hand-picked reading recommendations. Larimer Square, the city's oldest block, is a top spot for boutiques and restaurants such as Rioja, a Mediterranean eatery with a James Beard Award–winning chef.
Don't miss Larimer Square's Chalk Art festival in June, when hundreds of artists decorate LoDo's streets like canvases.
While walking in LoDo, if you notice a sculpture of an enormous, illuminated, dagger-speared heart, you've found MCA Denver, a hip hub for rotating contemporary art exhibits and public rooftop parties featuring local bands and DJs.
Cherry Creek
For decades, Cherry Creek has maintained its allure as the top spot in Denver for upscale art galleries, shopping and dining.
The heyday of indoor malls may have passed, but you wouldn't know it from the bustling Cherry Creek Shopping Center, one of the liveliest shopping centers in the region. Live string quartets and a cappella groups often provide the soundtrack while shoppers flock to Burberry and Tiffany & Co.
One-of-a-kind boutiques, galleries and restaurants line Cherry Creek's walkable streets, where the well-heeled shop, dine and play. Barolo Grill, with an award-winning wine list, is a Denver staple that serves high-end Italian cuisine.
For casual patio dining, try Olive & Finch, serving delicious sandwiches, breakfast scrambles and salads all day.
The Highlands
The recently revitalized neighborhoods of Highland and West Highland are perched on a hill across the highway from downtown Denver, accessible via the Denver Millennium and Highland pedestrian bridges, but the Highlands offer so much to do, you might not want to leave.
For incredible views of the city and creative, tasty global street food, dine at Linger, a restaurant housed in the former Olinger Mortuary that plays up its quirky past with cheeky jokes in its decor and menu.
Grab desert at Little Man Ice Cream — you can't miss its building in the shape of a giant milk can.
Stroll through the tree-lined streets of the Highlands to find unique boutiques, including florist and gift shop The Perfect Petal and affordable women's fashion purveyor Common Era.
Colorado boasts more breweries per capita than any other state. Visit Cerveceria Colorado for Mexico-inspired craft beers or Prost Brewing for German-style lagers.
Washington Park
In the early 1900s, Denver's mayor launched the city wholeheartedly into the City Beautiful movement, planting trees, illuminating buildings and setting aside swaths of land for public parks, including what became Washington Park.
Wash Park (as locals call it), named one of "America's best public spaces" by the American Planning Association, is always filled with joggers, dog walkers, picnickers and cyclists.
Boutiques and restaurants line the shady streets of South Pearl Street and Old South Gaylord. Every Sunday morning from June through October, find artisanal breads and fresh fruits and vegetables at the South Pearl Street farmers market.
Caffeinate before jogging at Wash Perk or Stella's Gourmet Coffee & Such, a cozy space with hidden nooks. After working up an appetite, visit Fooducopia for thoughtful organic cuisine.
West Denver
Denver's west side was once primarily a working-class residential neighborhood, but now it draws visitors with its authentic vibe.
Tennyson Street offers plenty of distractions, including BookBar, a carefully curated bookstore and wine bar; Feral Mountain Co., which sells top-quality gear for mountaineering expeditions; and the quirky Oriental Theater, which hosts bands, comedy acts and live storytelling shows.
Watch craft beer slosh into shiny cans at the Denver Beer Co. Canworks. At Factotum Brewhouse, a rotating roster of homebrewers rent the equipment and show off their creations in a public taproom.
Denver may have built a reputation for craft beer with six-dozen breweries within city limits, but its taco game is also fierce. Don't miss the Denver Taco Festival every June at the Fox Street Compound, complete with Chihuahua races, a tequila expo and lucha libre wrestling.