Unbelievably scenic road trips come with the territory when you hit the highway around the United States and Canada. And with them comes the chance to stay at any number of fantastic hotels along the way. In fact, some hotels are so great they merit planning a road trip around.
So, with a wonderful hotel with a deep sense of place as your base, set out to explore wildernesses that include spots like the Everglades in Florida and Utah's iconic red canyons, as well as Hawaii's lava fields, the shimmering glacial lakes of the Canadian Rockies and more landscapes — and routes through them —to remember.
As always, check for travel guidelines and closures before planning your trip.
JW Marriott Marco Island Beach Resort, Florida
For a southwest Florida road trip that mixes wild nature at your doorstep and peak relaxation in a gorgeous beachfront setting, the JW Marriott Marco Island Beach Resort beckons.
You're within a short drive of epic forays into Florida nature here, including Everglades National Park and Corkscrew Swamp Sanctuary, where you might spot alligators and the elusive ghost orchid.
Oceanfront rooms at the hotel bring awe-inspiring Gulf of Mexico views sweeping in, there are lounge chairs waiting for you on the sugar-fine sands, and the hotel's Spa by JW is one of the finest wellness oases in the entire state. And if golf is your thing, two championship courses are yours for the taking.
SpringHill Suites Springdale Zion National Park, Utah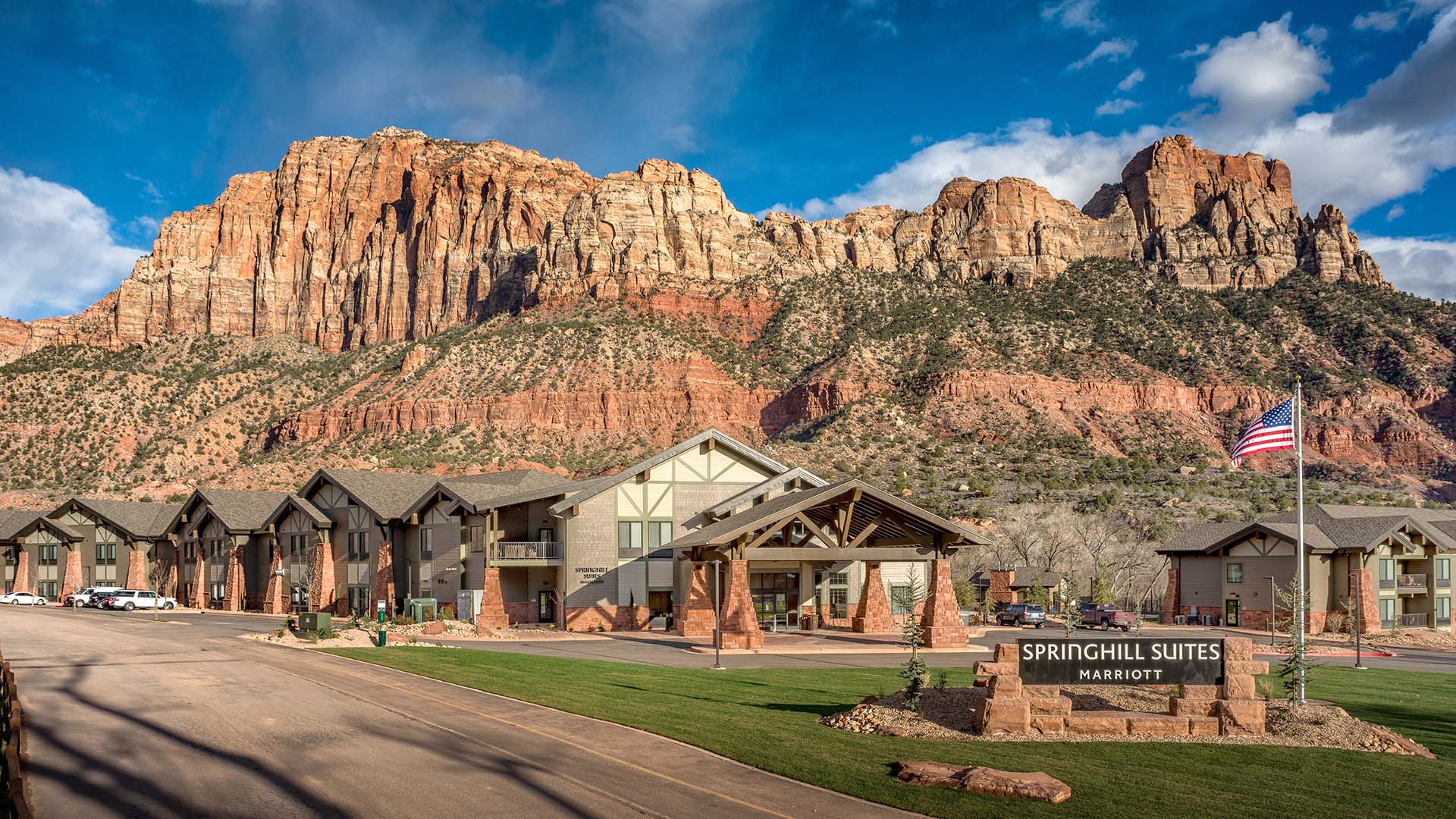 For exploring one of the most legendary national parks in Utah, it's impossible to choose a better road-tripping base than SpringHill Suites Springdale Zion National Park, located right along the Virgin River and just a mile from Zion National Park's entry gates.
From March through late November, you'll need to use the park's shuttle bus to access the breathtaking Zion Canyon Scenic Drive that winds past popular trailheads at Emerald Pools (where waterfalls plunge into a deep green pool) and Weeping Rock.
Outside of those peak months, you can road trip on your own into the park — as well as to other spots farther afield, like Bryce Canyon and the Grand Canyon's North Rim — from the hotel.
Make time to kick it in the hotel's hot tub and pool, surrounded by canyon and red rock views that ground you firmly in this beautiful place.
Mauna Kea Beach Hotel, Autograph Collection; Hawaii
Road trips into Hawaii's ranch-rich paniolo (cowboy) country served up with spectacular Kohala Coast views are on the adventuring itinerary when you make Mauna Kea Beach Hotel, Autograph Collection your base on the Big Island.
While it would be easy to never leave the property thanks to all of the resort's amenities — championship golf, tennis, a stunning beach and an oceanfront pool among them — you're surrounded by beach parks for snorkeling and bodysurfing (Spencer Beach Park and Hapuna Beach State Recreation area) and other tempting Hawaiian landscapes.
Hawai'i Volcanoes National Park, a two-hour road trip south, is a fascinating place, with frequent eruptions from Kilauea and Mauna Loa and hiking trails that cross lava fields where you might see petroglyphs.
JW Marriott Savannah Plant Riverside District, Georgia
A road trip into coastal Georgia's Lowcountry comes with comfort food and killer local seafood plus historical sites and sandy beaches.
What could be better? Check into the JW Marriott Savannah Plant Riverside District, right on Savannah's historic riverfront and easily walkable to shopping, bars and restaurants, and you'll be ensconced in luxury when you're not out seeing the sights — maybe nestled in a plush cabana by the rooftop pool.
The golden beaches of Tybee Island are just a half-hour drive from the hotel, and you can venture into South Carolina to visit Hilton Head to sample local shrimp and oysters or play some golf in just 40 minutes.
Drive 1.5 hours south for a fun day trip to Jekyll Island, the southernmost of Georgia's Golden Isles, where 25 miles of paved biking trails wind through marshes and along the beach
The Ritz-Carlton Bacara, Santa Barbara; California
A California road trip from Los Angeles or San Francisco with Santa Barbara as your ultimate destination for winding down is full of rewards when you make The Ritz-Carlton Bacara, Santa Barbara your end game for pampered relaxation.
Pismo Beach and Avila Beach, to the north, have mellow surf spots for beginners, and monarch butterflies migrate en masse through the area from October through February. For deeper forays into nature, consider day tripping by boat to Channel Islands National Park, 22 miles off the coast of Santa Barbara.
Back at the hotel, which sprawls across 78 acres overlooking the Pacific Ocean, it's all about basking in more glorious coastal views. Rooms that come with private fire pits are especially cozy after a long day out exploring.
Muir, Autograph Collection; Nova Scotia
Lobster dinners, live music at cozy local pubs and a dedicated cold-water surf scene make Nova Scotia a road-tripping haven if you love the great outdoors and fresh seafood options everywhere.
Kick off the fun in Nova Scotia's lively capital city, Halifax, with a stay at the Muir, Autograph Collection. The stylish and modern wellness-oriented property in the city's Queen's Marque district is within a quick stroll of waterfront restaurants and bars. Take time to relax in the hotel's halotherapy salt room and infrared sauna, too.
Make the property your launch point for road trips farther afield in some of Canada's most stunning provinces, including to Cape Breton Island in Nova Scotia and Prince Edward Island (known for lobster, mussels, oysters and scallops) in the Maritimes provinces.
The Westin Bayshore, Vancouver; British Columbia
One of Canada's legendary west coast road trips includes island hopping by car and ferry along the Sunshine Coast in British Columbia.
Kick off the journey with a ferry trip with your car from Horseshoe Bay in West Vancouver that travels through the glistening waters of Howe Sound to the coastal hamlet of Langdale.
You can experience the Sunshine Coast's pretty pockets (galleries, pristine beaches and quaint cafés await) as a day trip from Vancouver or plan to linger longer.
When you're back in Vancouver, check in for a restful, wellness-focused respite along the waterfront at The Westin Bayshore, Vancouver, with a beautiful outdoor pool, breathtaking mountain vistas and the city's beloved Stanley Park at your doorstep for urban hiking, picnicking on the beach, biking and other outdoorsy pursuits.
Kananaskis Mountain Lodge, Autograph Collection; Alberta
Turquoise-hued glacial lakes and towering mountain peaks make for an unforgettable backyard playground when you plan a road trip from Kananaskis Mountain Lodge, Autograph Collection, an chalet-style resort set in the wilds of Alberta, Canada.
The elegant hotel's 50,000-square-foot Nordic Spa is a destination unto itself, including the outdoor hydrotherapy circuit of five stunning pools, a true refuge among the alpine surrounds.
Road trip roughly an hour from the property to Banff National Park and Lake Louise, a year-round playground for hiking, skiing, dog-sledding and lake-hopping, depending on the time of year you're here.
About 40 minutes from the hotel, the quintessential Canadian mountain village of Canmore is worth seeking out for its excellent restaurants (Crazyweed Kitchen is a favorite for modern Middle Eastern-inspired cuisine) and more outdoor fun along the lines of cross-country skiing, hiking and ice climbing.