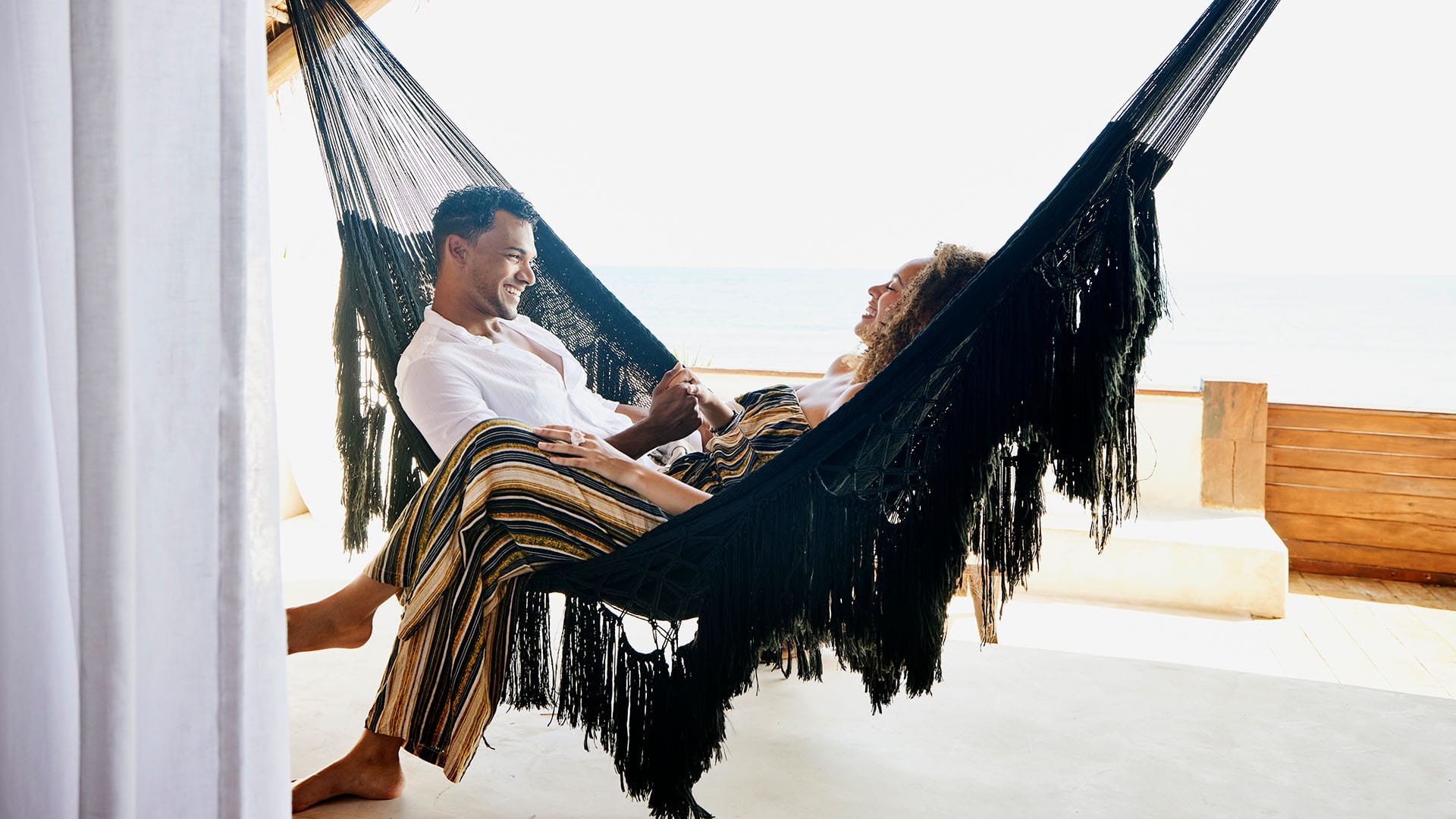 Romantic Getaways
Find Your Travel Love Language — Then Plan Your Most Romantic Getaway Ever
By

Terry Ward
If you're of the mindset that travel is best shared with that special someone, chances are you and your partner share a travel love language — a trip type or travel vibe where your love shines brightest.
Of course, a romantic getaway is hardly a one-size-fits-all experience, so we've distilled some of our favorite travel love languages down to help take the guesswork out of where to go on your next couples vacation — and share the properties most likely to stoke those embers.
As always, check for travel guidelines and closures before planning your trip.
Travel Love Language: Keeping It Cozy
Were you two hygge before hygge was even a thing? You know, the types that like to keep it cozy and connected everywhere you go, seeking out those perfect thermal springs for relaxing, restaurants glowing with real candlelight, or the idyllic fireplace to snuggle around?
Iceland's inherent coziness comes through to the max at The Reykjavik EDITION, where you can spend your day strolling the Icelandic capital's scenic Old Harbour, just out the door, or scouting for the northern lights on dark nights (then rushing inside to warm up by the hotel's open-flame lobby fireplace and bar).
For peak outdoor coziness, book a soaking session at oceanside geothermal oasis Sky Lagoon, where you can sip bubbly at a swim-up Champagne bar while basking in fjord views.
Travel Love Language: That Luxe Love Life
"The more indulgent the better" is the mantra for the couple whose love language is all about life's luxuries, from high-end retail therapy and indulgent spa sessions to a stay that wraps you in every possible pampering amenity. And no American mountain town pours on the posh like Aspen, Colorado.
Stay at the W Aspen for out-the-door access to the most coveted ski slopes in the country during the snowy season, world-class spa treatments at spa partner The Spa at St. Regis Aspen Resort, and epic shopping opportunities everywhere — whether you want classic couture or high-end Western wear from Aspen classics like Kemo Sabe and Pitkin County Dry Goods.
Travel Love Language: Pure Escapism
Leaving the mundanity of the day-to-day and heading somewhere seemingly out of this world fires up romance for couples whose love language is one of pure escapism.
And lovers looking to escape the high-energy glitz and skyscrapers of city living for a spell should look no further than Dubai's surrounding desert and decadent spots like Al Maha, a Luxury Collection Desert Resort & Spa for a serene stay.
Secreted away among the palm groves and rolling dunes of the Dubai Desert Conservation Reserve, the resort has just 42 super-luxe suites and beckons for horseback riding and camel treks into the surrounding sandscapes, a spot of falconry, or simply kicking back in your luxurious Bedouin-inspired digs, complete with a private swimming pool and the desert's canvas for soothing views.
Travel Love Language: Rewilding Your Love
Snowy peaks, pounding surf and coastal hiking trails through ancient forests set the scene for couples who glow in the great outdoors. You'll find an ideal retreat as you rewild your love in Canada's coastal wonderland, Vancouver Island.
Make Delta Hotels Victoria Ocean Pointe Resort your waterfront base and head out snorkeling or scuba diving within majestic kelp forests with Rockfish Divers, cuddle close while stargazing within the Cattle Point Dark Sky Urban Star Park, or set sail to spot orcas during a whale watching tour with Orca Spirit Adventures.
Travel Love Language: Will Wander for Wellness
Does self-care in special places speak your travel love language? Treat yourselves with a wellness escape for body and mind at The Westin Turtle Bay Resort & Spa, Mauritius and enjoy a sublime beachfront setting with Indian Ocean coral reefs to explore just offshore.
The resort's yoga master can lead you through stretching and meditation classes when you're not relaxing poolside or hiking to nearby waterfalls for some exercise in the fresh air.
Make time for couples body wraps and massages at the Heavenly Spa by Westin, where a stunning relaxation garden invites you for more Zen moments pre- or post-treatment.
Travel Love Language: Feeding Your Love
Convinced the route to the heart is via the taste buds? Singapore is the city for the couple that craves it all — from fine dining and cutting-edge cocktail bars to hawker night markets that will make you weep with joy.
Right near the scores of restaurants of Marina Bay, the JW Marriott Hotel Singapore South Beach lures with its own signature restaurant, Akira Back, a masterpiece of modern Japanese cuisine that wraps in Korean and other global influences.
Cocktail bar hobbyists can hop from swanky art deco beauty Atlas to the more rock-and-roll-inspired Stay Gold, which doubles as a funky coffee shop by day. And when the hankering for a hawker market hits, put Adam Road Food Centre and Chinatown's Maxwell Food Centre at the top of your list.
Travel Love Language: Diving Deep into Cultures
For some couples, a getaway is all the more meaningful when you're able to go deeper into a culture, peeling back the layers of a place for a greater understanding.
In Puerto Rico, see another side to the tropical playground that gave the world Luis Fonsi's "Despacito" when you day trip along the Taína Route for a better feel for the influence of the island's indigenous people on its culture and traditions.
Self-guided explorations take you from Arecibo to Ponce as you travel from north to south on the island, seeing petroglyphs and visiting caves along the way.
One of the most fascinating stops is the Centro Ceremonial Indígena de Cagüana, the most important Taíno archeological site in the Caribbean.
When it's time to kick back, The St. Regis Bahia Beach Resort, Puerto Rico, just 40 minutes from San Juan, beckons with a stunning oceanfront setting.
Travel Love Language: Trendsetting Jet-Setting
You two knew the next big thing before it even was a thing. You don't just find trends, you set them. Sound familiar to you and your bae?
If so, note that Australia's capital has long been overlooked by jet-setters targeting Sydney and Melbourne instead. And if you're the kind of pair that likes to see a place before it's on every trendsetter's hit list, you'll get a kick out of Canberra in the Australian Capital Territory.
Stay in the heart of things at the Midnight Hotel, Autograph Collection, where the complimentary minibars are stocked with food and beverages from local brands. The city's trendy Dairy Road district brims with hip Japanese street food hideaways, including Canteen and Ramen Daddy.
And check out the up-and-coming New Acton design precinct, too, home to the city's most sustainable edifice, the Nishi Building, and stylish spots to dine, like rustic-chic Rebel Rebel.