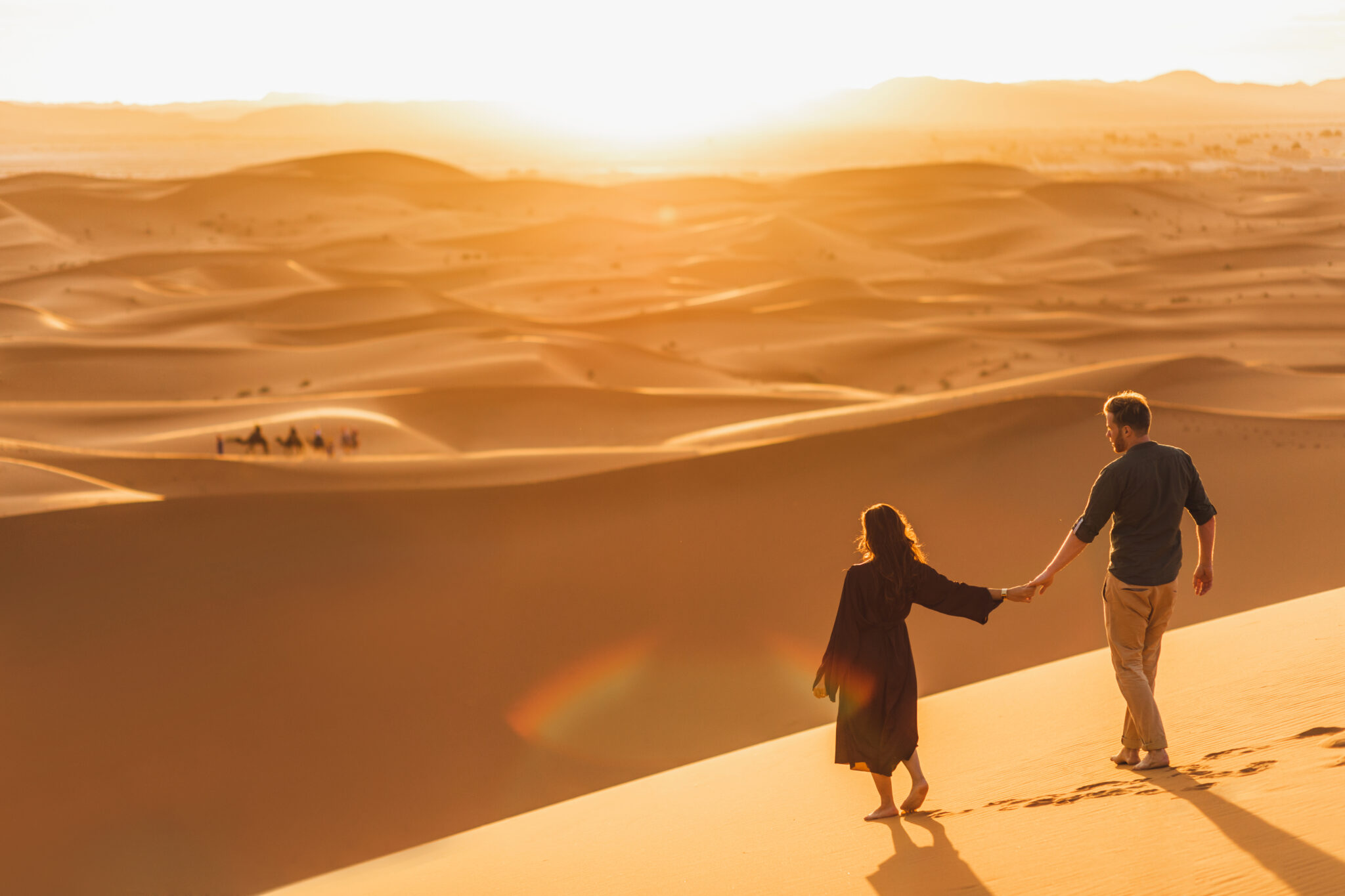 Romantic Getaways
7 of the Most Romantic Destinations in Europe, Middle East and Africa
By

Helen Ochyra
There's nothing more romantic than making an escape à deux. From moonlit walks through atmospheric Edinburgh to candlelit dinners in Marrakesh and lazy lie-ins in sultry Muscat, it's time to cast off the quotidian and slip into something more comfortable — at a destination made just for two.
Stroll arm in arm through romantic Marrakesh
Rose-pink walls of ancient stone rise around you in the labyrinthine Medina of Marrakesh, your senses alive with the scents of orange blossom and jasmine. You're sure to get lost in Morocco's most famous city, but that's half the fun, especially when you're hand-in-hand with your partner. Pause a while over mint tea poured slowly, or to buy some fragrant, freshly ground spices, before heading back to your hotel, the best of which feel more like palaces.
The pick of those in the city itself is AnaYela, Marrakesh, a Member of Design Hotels™, where opulent suites lead off a lush courtyard and the rooftop terrace has views of the city's historic heart. Over in tranquil Menara, you'll find Le Méredien N'Fis, boasting a vast outdoor pool and illuminated Andalusian gardens ripe for a romantic evening stroll.
Get cozy in Edinburgh
From its ancient, volcano-top Castle down through its atmospheric cobbled streets and grand Georgian boulevards, Edinburgh is romantic to its bones. Here you can stroll along medieval lanes before settling into a cozy, fire-warmed pub to drink whisky with a soundtrack of delicate Scottish folk music.
Some of the UK's best restaurants line the streets of the Scottish capital, too, from traditional places serving the best Scottish produce — think Angus beef steak and fresh lobster — to Michelin-starred heavyweights that tempt you with champagne and a tasting menu.
Stay in the heart of it all by booking a suite with city views at The Glasshouse, Autograph Collection, or indulge yourself with a stay at the Sheraton Grand Hotel & Spa, Edinburgh, which has a gorgeous rooftop hydropool for a soak beneath the stars.
Discover why Venice is made for lovers
There's a reason Venice is one of the world's most popular places to honeymoon: the Italian city simply oozes romance. Naturally, you will want to take a gondola ride along the canals, and it's best to time this for sunset when the water glows orange and pink.
You're sure to also be keen to share cicchetti at Cantina do Spade, where Casanova is said to have wined and dined his lovers, but don't miss some of the more unsung sights. Take in the opera at the gilded auditorium of Teatro La Fenice and lose yourselves in the cobbled streets of Dorsoduro, home to vintage boutiques and little-known art galleries.
For a romantic escape, head out to dreamy Torcello for a languid lunch on this secluded island (the best tables are at Locanda Cipriani, where there's also delicious carpaccio and homemade pasta).
For glorious views from a privileged position on the Grand Canal book your stay at The St. Regis Venice, where the rooms are chic and the garden a retreat. Your butler can even organize a bespoke art tour of the city, taking in sights that inspired Monet, who once stayed at the hotel. Alternatively, book the iconic The Gritti Palace, a Luxury Collection Hotel, Venice for palatial suites that connect you to the city's illustrious history.
Enter a romantic paradise in the Seychelles
The Seychelles might just be the closest place to paradise the planet has to offer. In these sun-soaked Indian Ocean islands, you can slip off your shoes and spend your romantic break in barefoot luxury.
Staying here is all about the beach, of course, where the sands are talcum-powder-soft and the waters clear and warm. The snorkeling and diving are matchless, too — expect to see turtles and clouds of colorful fish. Even better: you'll also find sumptuous seafood, delicious cocktails and some truly opulent hotels.
Check in to North Island, a Luxury Collection Resort, Seychelles to experience private island life, your villa one of just 11 and offering a private plunge pool, beach access and magnificent ocean views. Alternatively, book your stay at laïla, a Tribute Resort & Spa, Seychelles for fresh modern rooms with private balconies and a range of restaurants serving Seychellois cuisine. The hotel can also organize jaunts around the island, including glorious walks along unspoiled nature trails and trips to waterfalls and botanic gardens.
Go hand in hand to the heights of Dubai
Swoon-worthy and show-stopping, Dubai is next-level when it comes to romance. Here you can dress up for a night at the opera, ascend to dizzying heights for dinner with a glittering view at one of the city's lofty restaurants — and even float above the Arabian desert in a hot air balloon, watching the dawn's first rays light up the landscape in amber and peach. If you have wedding rings on your mind, head to the Gold Souk, where some 400 jewelry boutiques await.
For a stay to remember, book into The Ritz-Carlton, Dubai, where the sea-facing suites look out onto a private beach, or head out to the desert oasis of Al Maha, a Luxury Collection Desert Resort and Spa, Dubai. Here you'll find Bedouin villas with canopy-covered private pools nestled amid the sand dunes, plus desert safaris, camel treks and nature walks.
Alternatively, reserve a room at the new Marriott Resort Palm Jumeirah, Dubai for a private balcony overlooking the beach, romantic open-air restaurants serving everything from delicious Italian to sumptuous Peruvian and a swim-up bar.
Embrace the mystique of Muscat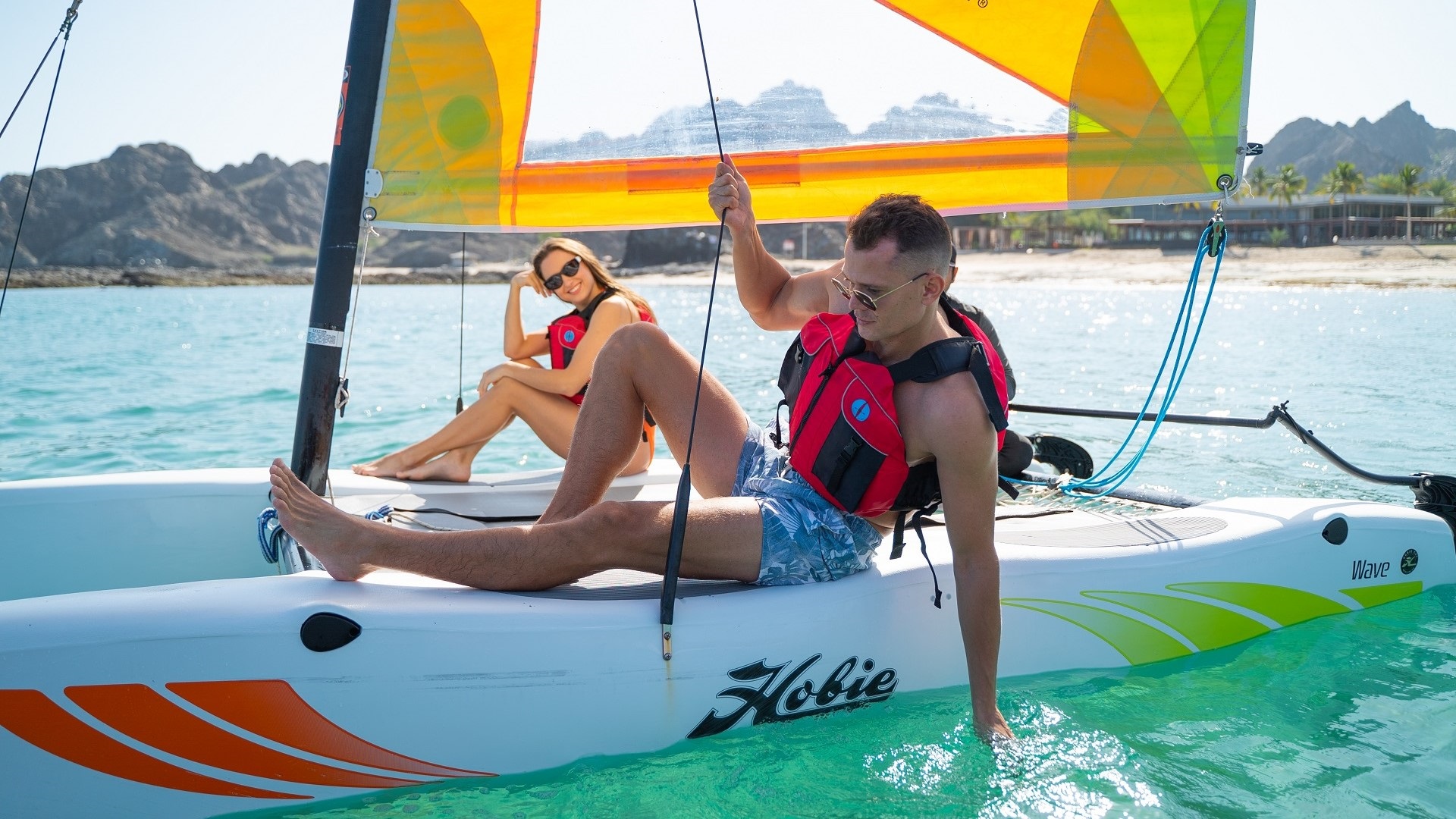 The warm, clear waters of the Gulf meet the Al Hajar mountains at the ancient port city of Muscat. The Omani capital has a history that stretches back to antiquity and you're sure to be captivated by its sandstone Grand Mosque and vibrant souk. Wildlife-lovers shouldn't miss a boat trip out to meet the dolphins who live offshore, while dining on the freshest local seafood is a must.
The Sheraton Oman Hotel offers wonderfully romantic views of those magnificent Al Hajar mountains, while the palatial Al Bustan Palace, A Ritz-Carlton Hotel tempts with its six swimming pools and private beach — don't miss a couples massage in the luxurious wellness retreat.
If you're dreaming of relaxing poolside, book a room at the chic beachside W Muscat, where the Wet Deck offers daybeds built for two and in-water loungers. For couples who enjoy the buzz of being at the heart of things, the Aloft Muscat places you right in the city's lively downtown.
Savor the timeless romance of Paris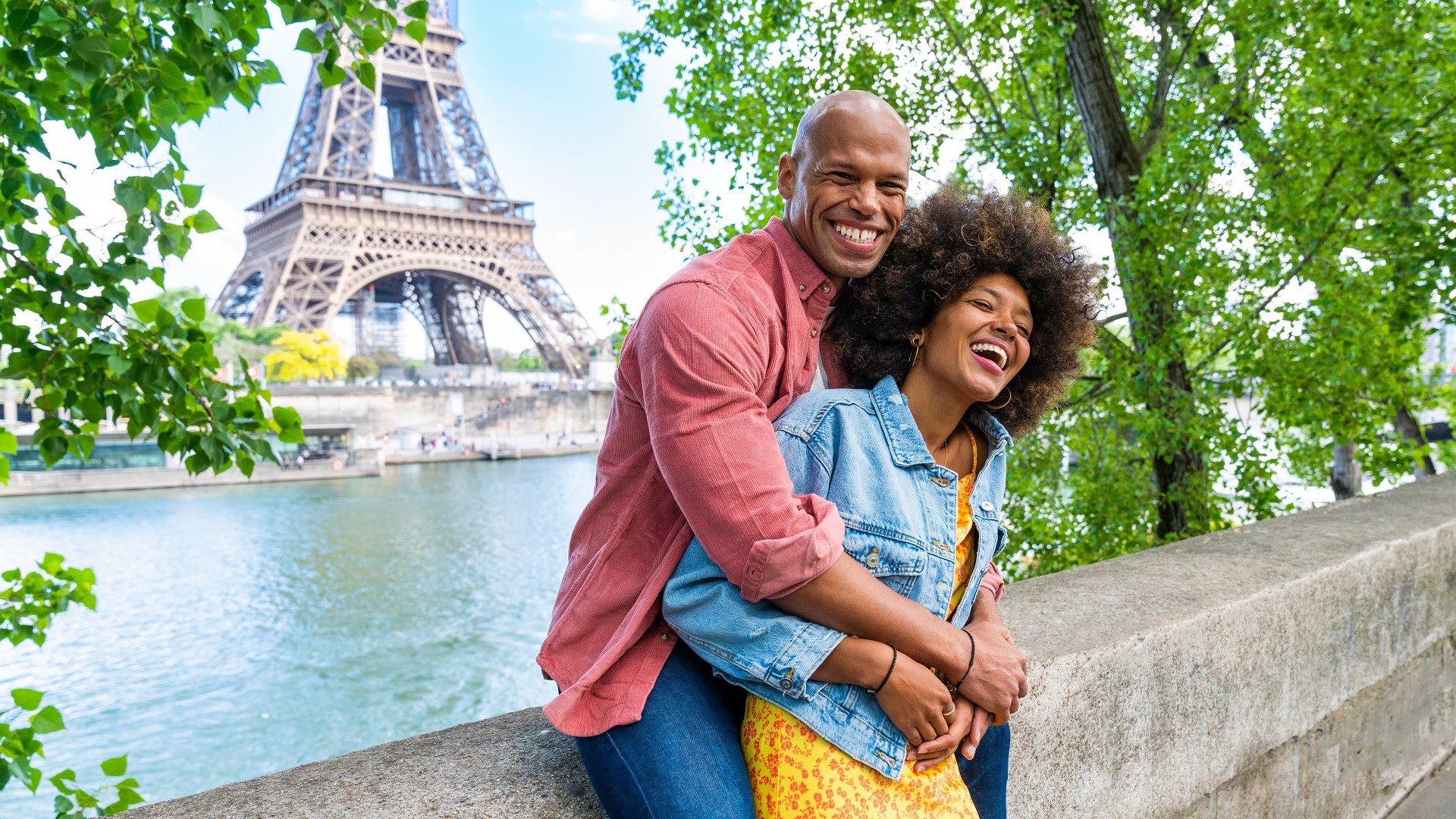 Think romance, think Paris, bien sûr. But although a trip up the Eiffel Tower and a cruise along the Seine may be obligatory for any romantic city break here, the French capital has hidden gems galore to enjoy together. Literary couples won't want to miss browsing the piled paperbacks at iconic Shakespeare and Company (publisher of Joyce's Ulysses) followed perhaps by a coffee at Voltaire's favorite café Le Procope. Fashion lovers will be delighted by the city's beautiful secret shopping galleries, which date from the 19th century and offer everything from hand-crafted jewelry to custom-made shoes.
Rest afterwards in your suite at the opulent Hotel de Berri, A Luxury Collection Hotel, Paris, in the chic 8th arrondissement, or indulge yourself with a stay at Bulgari Hotel Paris's penthouse, arranged over two levels, offering peerless views of the Eiffel Tower and Sacré Coeur.
You might also consider Renaissance Paris Arc de Triomphe Hotel — after all, there's nothing like basing yourself right besides an iconic site to make a trip memorable. Yet Renaissance Paris Arc de Triomphe Hotel is so much more than its superb location, with bright, spacious rooms, and balconies that are just made for romantic moments. Couples will also love the Renaissance Paris Nobel Tour Eiffel Hotel, which offers boutique rooms arranged across four historic buildings in the elegant 16th Arrondissement.