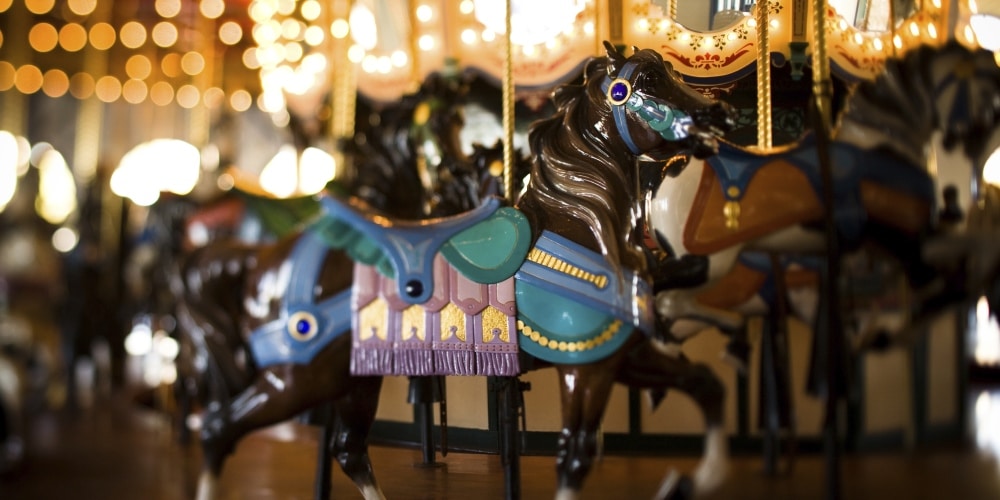 Santa Monica
4 Kid-Friendly Things to Do in Santa Monica
By

Kathleen Gossman
Bored with the beach? Take the kids for a spin on a vintage carousel in Santa Monica. (Photo: Getty)
If your family is looking for things to do in Santa Monica, the obvious choice is a day at the beach. But if you've had enough surf, sand and fun in the sun, fear not. There are plenty of family-friendly choices in Santa Monica. Here are our favorites.
Stage a Scavenger Hunt
The Santa Monica Pier Scavenger Hunt turns a visit to the pier into a fun, educational (don't tell the kids) adventure. The 1916 Loof Hippodrome is a highlight: You'll appreciate the building's Moorish architectural influences while the kids will love the vintage carousel inside. Start at the Santa Monica Pier Aquarium, where you can get hands-on at three touch tanks before picking up a copy of the scavenger hunt map. The pier also has an arcade, restaurants and an amusement park.
Take Flight
Aviation-obsessed kids of all ages will want to hit the Museum of Flying. It has a replica of the Wright Flyer and a rotating display of aircraft ranging from a Douglas A-4 Skyhawk to a 1959 RoadAir flying car. Younger kids can play with buttons and switches galore in an open Boeing 727 cockpit, and anyone at least four feet tall can take the Maxflight simulator through a combat run (you can even flip upside down) or just a relaxing cruise over Los Angeles.
Ditch the Kids' Menu
You can turn lunch into fun by choosing one of the best family-friendly places to eat. If the thought of another plate of chicken fingers and fries makes you want to cry, take your crew to the Santa Monica Food Truck Lot, located at Ocean Park Boulevard and Main Street. Every Tuesday, vendors set up near a grassy lawn perfect for picnicking. With everything from grilled cheese to Asian fusion available, you can please picky eaters as well as budding gourmands.
Go for Live Entertainment
Get the the kids out of their virtual game worlds at the Santa Monica Playhouse, which regularly stages kid-friendly productions. It's worth a look to see what's playing while you're in town. A fixture on the music scene since 1958, McCabe's Guitar Shop sells acoustic instruments ranging from fiddles and guitars to dulcimers and balalaikas. They're known for their concerts too, and host Sunday matinee shows for kids a couple times a month at 11 a.m.
---