Hotel amenities like over-the-top roof decks and personal plunge pools are divine, but for book-loving travelers, there's nothing better than finding a cozy space to read one more chapter or running a finger along the gold-embossed spines of vintage tomes. Luckily, plenty of bookshelf-lined rooms are eager to fulfill these bibliophile fantasies.
From demure and dramatic to sleek and simple, feast your eyes on these hotel libraries where readers of all stripes will feel right at home.
As always, check for travel guidelines and closures before planning your trip.
Schloss Lieser, Autograph Collection
Enchantment abounds inside Schloss Lieser, Autograph Collection, a stately private castle-turned-elegant hotel whose large library invites you to browse ancient and contemporary books.
Sink into a leather chair and listen to music on the vintage record player. Or sip afternoon tea and gaze out at the castle garden and the Moselle River. You can also leave your own words behind by contributing to the library's mindfulness book.
Cotton House Hotel, Autograph Collection
The sophisticated Cotton House Hotel, Autograph Collection was once HQ for Barcelona's Cotton Textile Foundation, and its library was the professional and social gathering place for industry leaders.
It's now a sumptuous spot where dashes of color flirt with wood-paneled walls and shelves lined with books dedicated to art, history and literature. Sip afternoon tea or simply sit quietly beneath the carved ceiling that surely has a story or two to share.
The Edwin Hotel, Autograph Collection
With its prime riverfront location, The Edwin Hotel, Autograph Collection is a springboard for discovering Chattanooga's creative scene. Inside, guests will swoon over the city's largest private art collection of more than 75 original works scattered throughout the guest rooms and public areas.
In the library, eye-catching contemporary art spices up the traditional leather-and-wood style, making it a fun place to meet before a night out on the town or sit with a page-turner.
Four Points by Sheraton Production City, Dubai
Dubai is a feast for the senses and delivers superlatives at every turn, and the contemporary vibes of the Four Points by Sheraton Production City, Dubai fit right in.
Case in point: Its sleek and sassy library where business and leisure travelers can plug in, gather for a quick meeting or update Instagram feeds amid the glowing bookshelves and futuristic circular seating pods.
Grand Bohemian Lodge Greenville, Autograph Collection
With its antler chandeliers, olive-toned leather sofas and built-ins lined with vintage and contemporary volumes selected by a local bookseller, the library of the Grand Bohemian Lodge Greenville, Autograph Collection is both magnificent and cozy.
It's the perfect place to bring your own book, sip coffee with your companion or plow through emails while surrounded by warm Southern hospitality that drips like Spanish moss.
JW Marriott Hotel Shanghai at Tomorrow Square
This legit 2,000-book library on the top floor of the soaring JW Marriott Hotel Shanghai at Tomorrow Square gets high marks in more ways than one.
Not only can you cozy up on a couch with a cuppa and flip through English and Chinese works on art and philosophy, you can also add "visited the Guinness World Record holder for highest library from ground level" (757.55 feet above the streets of Shanghai) to your list of achievements.
The Otis Hotel Austin, Autograph Collection
A little bit school, a little bit school's out, the design ethos of The Otis Hotel Austin, Autograph Collection is just right for its Campus District location, one block from the University of Texas at Austin. Guests will find thoughtful details in its inviting rooms, including record players, a tip of the hat to the city's Live Music Capital of the World moniker.
Pluck a favorite album from the vinyl library or head to Bar AC and drink in this feature wall, a glowing, floor-to-ceiling ode to Austin's Lone Star heritage and pulsing creativity.
Renaissance Warsaw Airport Hotel
As the brand's first foray into Poland, the Renaissance Warsaw Airport Hotel whimsically eschews the cliche that airport hotels are just for layovers.
A modern design spirit flows through the guest rooms and social spaces, whose accents include graphic art from the renowned Polish Poster Gallery — including in the hotel's charming library and reading nook that, with one glance, invite you to sit and stay.
Santa Monica Proper Hotel, a Member of Design Hotels
The rooms and suites at the design-forward Santa Monica Proper Hotel, a Member of Design Hotels stretch across two architecturally disparate buildings, but inside it's all artistic harmony thanks to sandy hues, organic textures and quirky accents, including in the Grotto Library.
Its collection of hundreds of hand-selected books, curated and eye-catching oeuvres d'art, and easy-to-sink-into rugs and chairs make you feel as if you're chilling out in a hippy-chic friend's reading room.
The St. Regis Istanbul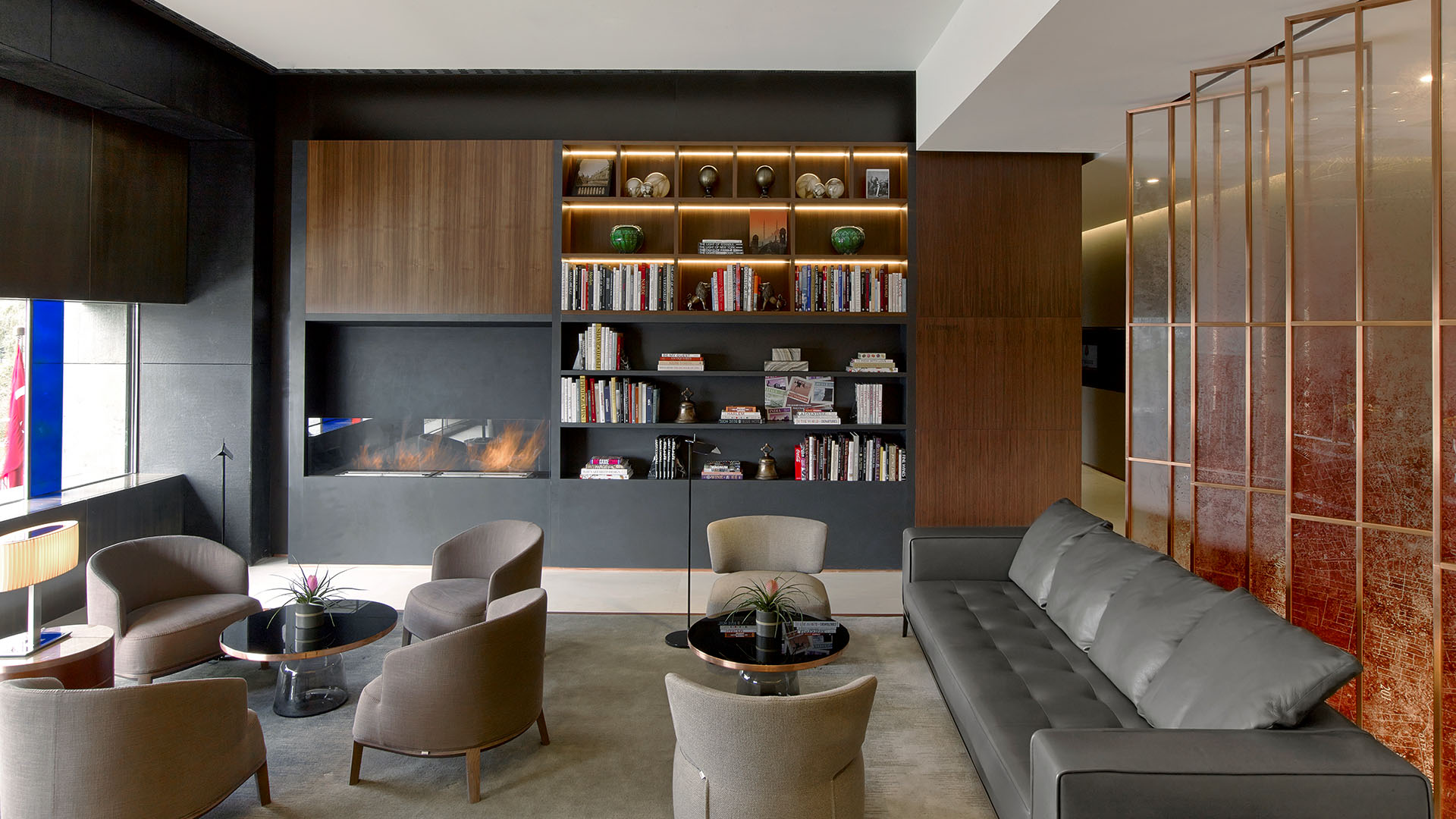 The upmarket Nişantaşı district location of The St. Regis Istanbul ticks all the right boxes when it comes to a luxe oasis in the heart of a city.
Muted tones and art deco lines permeate common areas such as the Study, where guests can kick back with colleagues to review the day's agenda, brows art books or fuel up on strong Turkish coffee before setting out to discover the kaleidoscope of sights and sounds that is Istanbul.
The Adolphus, Autograph Collection
Built by beer magnate Adolphus Busch on the site of the original Dallas City Hall, his namesake Beaux Arts–style hotel opened in 1912 and has been a landmark for luxury in the Lone Star State ever since.
While contemporary amenities fill the guest rooms and suites, it's the warm hues and rich wood tones of the hotel's small corner library that invite visitors to take a pause from the modern and a chance to steep in the grandeur of a century-old icon.
University Arms Hotel, Autograph Collection
Bookworms will love the University Arms Hotel, Autograph Collection, a quintessentially British hotel delivering elegance alongside literary luxuries in the heart of Cambridge. Take the literary-themed Afternoon Tea in the library, whose mahogany-paneled walls and leather and velvet sofas crank up the cozy.
Better still, pull one of the hand-picked tomes from the built-in bookcases and curl up next to the fireplace. Don't forget to visit the loos, if only to listen to English playwright Alan Bennett narrate "The Wind in the Willows."