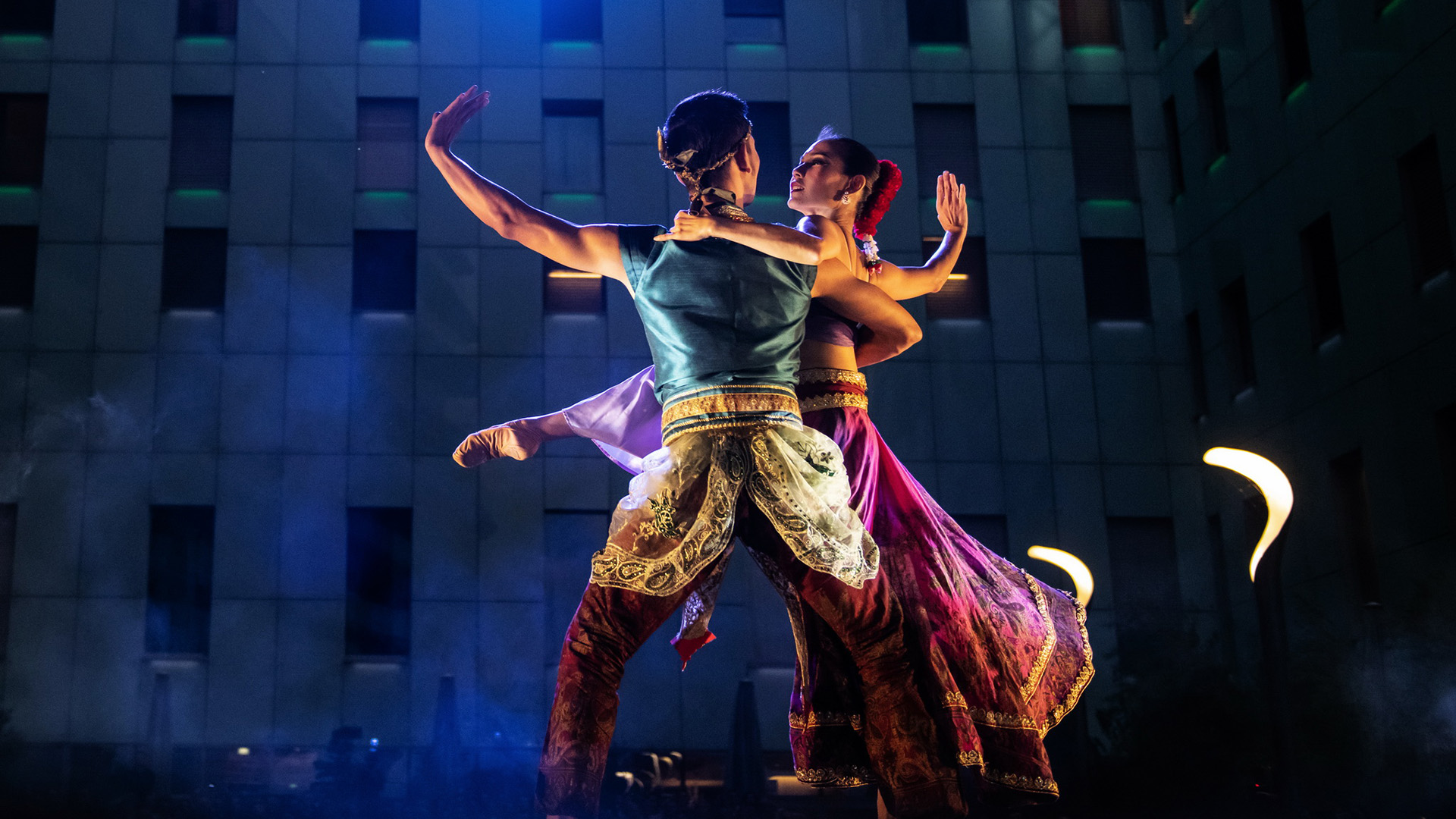 Culture + Style
A Year to Remember: A Monthly Guide to the World's Most Extraordinary Celebrations
By

Justine Harrington
With so many diverse and memorable celebrations occurring around the globe every year, it's always a good idea to plan your travels around a citywide or countrywide cultural event. Be it a big-time thoroughbred race in Dubai, an arts festival in Denver or a boat parade in the Dominican Republic, a local festival or event provides a wonderfully in-depth glimpse into a destination.
Here's a month-by-month guide to some of the world's best cultural celebrations, along with hotels where you can authentically experience each one.
As always, check for travel guidelines and closures before planning your trip.
January: The Tamborrada Festival in San Sebastián, Spain
Known for its golden beaches and gastronomic cred, San Sebastian, Spain, is one of Europe's hottest cultural destinations year-round.
But pay a visit to this enticing Basque Country resort during late January and you'll be treated to a truly special celebration: the Tamborrada Festival. Every year, for 24 hours straight, more than 100 groups of costumed drummers parade down the streets, and the whole city erupts with music and dancing.
Guests at the Hotel Maria Cristina, a Luxury Collection Hotel, San Sebastian get to join in the revelry — the hotel serves special themed cocktails and pastries throughout the week before passing out drums and hosting a plated dinner on the night of the festival.
February: Taj Mahotsav in Agra, India
Head to Agra for the Taj Mahotsav — an annual festival that celebrates India's heritage through art, food and music — and you'll bear witness to one of the country's grandest cultural events. During this 10-day fest, hundreds of notable artisans from all over India put their art on display, well-known musical artists take to the stage and food vendors sell everything from tasty street fare to regional main courses.
During the event, ITC Mughal, a Luxury Collection Resort & Spa, Agra hosts a special experience as part of the festival, called Walk the Taj, during which guests get an up-close-and-personal look at both the Taj Mahal and the Taj Mahotsav festival.
March: The Dubai World Cup in Dubai, UAE
With its sheer extravagance, dazzling glamour and exciting international flavors, there's nowhere in the world quite like Dubai. Aside from marveling at the world's tallest skyscraper, longest arch bridge and biggest shopping mall, springtime visitors can partake in one of the most popular events on the Arabian Peninsula.
Held on the last Saturday of March, the Dubai World Cup is an annual thoroughbred horse race that attracts people from all over the globe.
And luckily for guests of Al Maha, a Luxury Collection Desert Resort & Spa, Dubai, the hotel team offers an exclusive equestrian experience — including special transport to the World Cup, access to the dress rehearsal and a sneak peek into the daily routine of the horses.
April: Salone del Mobile in Milan, Italy
Ah, Milan — home of cutting-edge fashion, design and architecture; the financial center of Italy; and, not to mention, a veritable culinary and arts destination in its own right. Aside from walking the cobblestone streets, perusing designer boutiques and enjoying the ritual of aperitivo, visitors should plan to attend the Salone del Mobile, the international furniture fair that drives the city's Week of Design in April.
Book a stay at the Excelsior Hotel Gallia, a Luxury Collection Hotel, Milan to immerse yourself in the fun. The hotel's lobby, lounge and facade feature stunning Italian furnishings and art installations, including 500 pieces designed exclusively for the property, that surround guests with inspiration.
May: Bay to Breakers in San Francisco, California
Easily one of the most picturesque cities in the U.S. (if not the most picturesque), San Francisco is definitely a place for outdoor lovers. Boasting panoramic views of the Pacific Ocean, lush parks, pretty beaches and ample hiking trails, San Fran offers travelers a host of opportunities to get outside, which is why it's the perfect town for a footrace.
Every May, thousands of runners and walkers complete Bay to Breakers, a 12-kilometer race that winds through nine historic neighborhoods and ends at the breakers on Ocean Beach.
Plan to stay at the Palace Hotel, a Luxury Collection Hotel, San Francisco for post-race celebrations at the hotel's Pied Piper bar and in The Garden Court.
June: Chorea Gala in Bratislava, Slovakia
For a unique cultural event you won't experience elsewhere, travel to beautiful Bratislava for the Chorea Gala, a showcase of world-class modern ballet held by the Danube River. Enjoy thrilling open-air performances in a magical outdoor venue, and then make time to soak up the capital city's café culture, hip art scene and architectural wonders.
The Grand Hotel River Park, a Luxury Collection Hotel, Bratislava is one of the main partners of Chorea Gala, serving as a backdrop for many of the performances — guests get a fantastic view of the event directly from their room or suite facing the Grand Plaza.
July: Cherry Creek Arts Festival in Denver, Colorado
Denver comes alive in the summertime. People flock there to take advantage of the Mile High City's proximity to the Rocky Mountains, wealth of cultural attractions and pleasant, sunny weather. And the Cherry Creek Arts Festival is one of the main events of the season.
Held during the first weekend of July, this beloved annual community tradition is a true celebration of the arts, with hundreds of national and international artists exhibiting their work.
Visitors would do well to stay at the chic Hotel Clio, a Luxury Collection Hotel, Denver Cherry Creek, as it's located squarely within walking distance of the festival grounds.
August: Los Cabos Open in Los Cabos, Mexico
You may know Los Cabos for its lavish resorts and stunning coastal scenery, and there's certainly plenty of both to go around. But visit in August and you'll have the chance to attend the Los Cabos Open, one of the most noteworthy tennis events in Latin America.
Solaz, a Luxury Collection Resort, Los Cabos is the place to stay. The hotel serves as the main sponsor and headquarters hotel of the event, hosting all the players and holding social gatherings throughout the tournament. Solaz even built the tennis facilities that feature the Los Cabos Open's main stadium.
September: Feast Portland in Portland, Oregon
When the air turns crisp and fall is on the horizon, it's time to hightail it to Portland, Oregon, for Feast Portland. A distinct part of the cultural fabric of the city, this three-day festival is a celebration of all things culinary, drawing famous chefs and foodies from all over the world.
If you're planning on going to Feast Portland, book a room at The Nines, a Luxury Collection Hotel, Portland, which has special rates for attendees; plus, the hotel's chefs participate in various events.
October: Paantu in Miyakojima, Japan
The gorgeous, remote island of Miyakojima in Japan hosts an otherworldly festival called Paantu every year, usually in October. This traditional celebration follows the Japanese lunar calendar, and its happenings are thrilling to behold. Residents dress up as Paantu (a supernatural god), donning masks and covering themselves in leaves and thick layers of mud, which they then spread on people and places to confer luck.
To get a real sense of what Paantu means for locals, stay at IRAPH SUI, a Luxury Collection Hotel, Miyako Okinawa, which encourages guests to participate in the festivities.
November: Sheikh Zayed Heritage Festival in Abu Dhabi, UAE
The capital of the United Arab Emirates, Abu Dhabi has a dynamic arts and cultural scene that's well worth exploring, in addition to being a globally known dining destination. To really dive deep into the emirate, come for the Sheikh Zayed Heritage Festival, which celebrates the UAE's rich cultural heritage through crafts and performances.
As far as lodging goes, Al Wathba, a Luxury Collection Desert Resort & Spa, Abu Dhabi is located close to the festival, and the friendly, knowledgeable concierge is always on hand to arrange for transportation and provide tips and insight.
December: Holiday Boat Parade in Cap Cana, Dominican Republic
Picture the most pristine beaches and sparkling coastline you've ever seen, and you've got an accurate image of Cap Cana in the Dominican Republic. For a festive treat, the annual Boat Parade beckons. Held on the first Friday of December, this colorful parade features festively decorated boats and holiday decor all along the Cap Cana Marina, complete with live music and Christmas carols.
Sanctuary Cap Cana, a Luxury Collection Adult All-Inclusive Resort, Dominican Republic is at the heart of the celebration, whisking guests to the marina to enjoy the magical festivities.