Eat + Drink
Fine Dining Reigns Supreme at These 9 Indulgent Hotel Restaurants
By

Susan Portnoy
If you believe indulging in fine dining is one of travel's sweetest rewards, imagine how amazing it would be if culinary masterpieces were just a mere elevator ride away.
Luckily, these nine highly acclaimed restaurants serving delicious seasonal cuisine, and the extraordinary hotels in which they reside, make those epicurean dreams a reality.
As always, check for travel guidelines and closures before planning your trip.
Jin Xuan Chinese Restaurant
At The Ritz-Carlton Shanghai, Pudong, expect impeccable service and breathtaking views. Suites with stunning 270-degree panoramas are only surpassed by the Michelin-starred Jin Xuan on the 53rd floor.
Executive Chef Daniel Wong serves an authentic yet imaginative Cantonese menu in an elegant room with vaulted ceilings and floor-to-ceiling windows that frame Shanghai's glittering skyline.
Louix Louis
Louix Louis Grand Bar & Restaurant exudes modern cinematic grandeur worthy of an episode of "Succession."
Perched on the 31st floor of The St. Regis Toronto, a dazzling hotel nestled in the heart of the city's cultural hub, the restaurant's bold, honey-hued interior is the quintessential setting for gourmet fare.
Try the lobster risotto with fresh truffles or a glass of whiskey from the bar's extensive collection of more than 500 dark spirits.
Saint June 
For an ideal spot on the world-famous Seven Mile Beach, stay at The Ritz-Carlton, Grand Cayman, where beachfront dining is next-level.
Saint June's executive chef, Frederic Morineau, delivers a spirited South American menu celebrating the island's tantalizing flavors — jerk Chicken with local mango slaw and Cayman-style snapper are guest favorites.
When the day winds down, hit Ophelia Bar, where custom cocktails, gorgeous scenery and jaw-dropping sunsets go hand in hand.
Karai
At Karai, a warm, chic space of honey-colored wood, chef Mitsuharu Tsumura has brought Nikkei, the renowned culinary style he helped introduce to the world, to the W Santiago, and the experience is not to be missed.
The menu focuses on traditional Peruvian dishes prepared with Japanese techniques using Chilean ingredients — take, for example, the pickled olluco (a Peruvian root vegetable) with prawns, crispy gyoza dough, yellow garlic kimchi emulsion and chickpea cream.
Afterward, the rooftop bar's poolside terrace (replete with cozy, heated igloos in the winter) is the perfect spot for a nightcap.
Terraço Jardins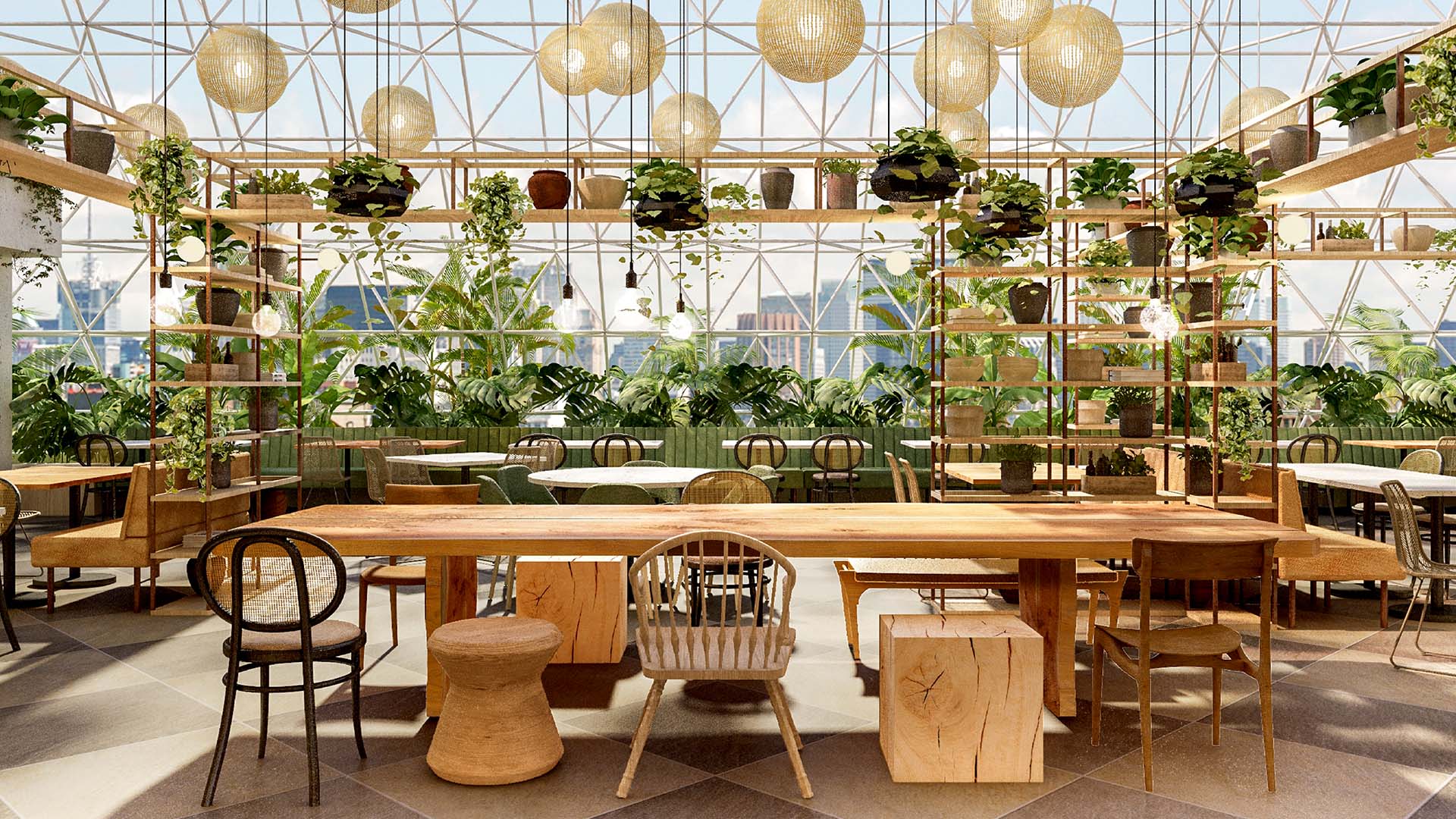 Located in the heart of Brazil's culturally rich metropolis, the Renaissance Sao Paulo Hotel embodies the city's cosmopolitan spirit. One example is the property's light and airy signature restaurant, Terraço Jardins.
Chef Raul Vieira, a sea-loving gourmet raised on a farm, shares the best of both worlds with innovative São Paulo dishes such as Banana Gnocchi with grilled shrimp and candied garlic.
Torno Subito 
Chef Massimo Bottura, the mastermind behind Italy's celebrated three-Michelin-star Osteria Francescana, handpicked Alessio Pirozzi as Torno Subito's chef de cuisine.
As part of W Dubai – The Palm, on the Palm Jumeirah coastline, the one-Michelin-star eatery brings the Italian Riviera of the 1960s to life with evocative retro decor. You can dine indoors amid a buzzy vibe and vibrant colors or kick back and relish a private beachfront setting.
Tia Carmen
It's no surprise Tia Carmen is one of the many highlights of the newly renovated, five-star JW Marriott Phoenix Desert Ridge Resort & Spa.
As soon as it opened, "Top Chef: All-Stars" alum Angelo Sosa's distinctive, modern-Southwestern menu won accolades. Dishes like savory beef cheek tostadas and vanilla flan with tequila caramel and manchego cheese have made the hot spot a must for residents and travelers alike.
IGNIV by Andreas Caminada 
One of eight superb restaurants at The St. Regis Bangkok, the Michelin-starred IGNIV by Andreas Caminada fashions the fine dining experience into a unique sharing affair.
Designed to encourage a lively mood, a four-course meal is served family-style with several dishes of modern Swiss fare per course. IGNIV's head chef, David Hartwig, oversees the imaginative production pioneered by the founding chef, Andreas Caminada, a three-Michelin-star honoree.
Aqua 
Discover the pinnacle of luxury at The Ritz-Carlton, Wolfsburg, complete with a floating pool in the harbor basin; a chic, world-class day spa; and Aqua, the only three-Michelin-star restaurant in the city.
Helmed by chef de cuisine Sven Elverfeld, Aqua has held the coveted three-Michelin-star designation since 2009. The secret of Elverfeld's success is simple preparations with inventive flavor combinations that delight the senses.