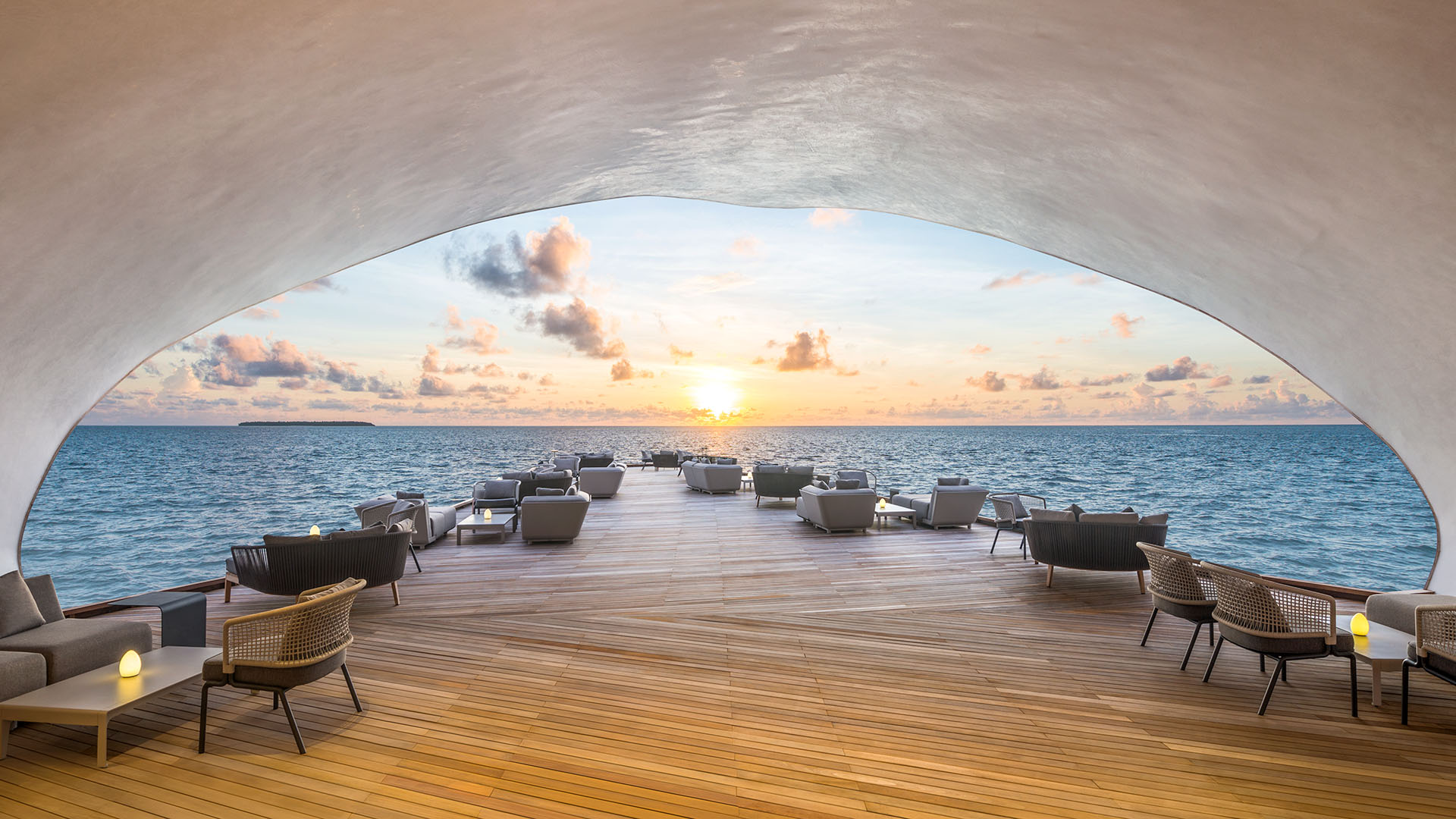 Eat + Drink
Restaurant Hot List: 10 Dining Experiences Worth Traveling For
By

Ramsey Qubein
One of the most fun parts of travel is trying new cuisines, exploring exciting new restaurants and earning perks in the process. Thanks to the Marriott Bonvoy Bevy™ American Express® Card, you can earn 4 Marriott Bonvoy® points for each dollar of eligible purchases at restaurants worldwide and U.S. Supermarkets (up to $15,000 in combined purchases at restaurants and supermarkets, then 2X points). Terms apply.
When it comes to seeking out a delicious meal with gorgeous, luxe surrounds to match, there are plenty of world-renowned options in Marriott Bonvoy's portfolio of hotels around the world. Even better, you can earn Marriott Bonvoy points when charging meals to your room.
And if you're not a guest when dining at a hotel restaurant, some Marriott Bonvoy hotels still allow you to earn points by providing your account number when paying the bill.
Read on for top dining outlets that are so incredible, they're seriously worth planning a trip around.
As always, check for travel guidelines and closures before planning your trip.
The Whale Bar — The St. Regis Maldives Vommuli
This stunning overwater lounge, all organic curved lines framing endless sea views, serves Mediterranean cuisine with a heavy focus on Spanish tapas. Also on offer is this resort's signature Bloody Mary (did you know each St. Regis has its own local recipe?).
From this vantage point, the fresh breeze and sunset draw guests from the beach for an unbelievably lovely evening.
Toro — The St. Regis Kanai Resort, Riviera Maya
Chef Richard Sandoval brings his famous creativity to this oceanfront slice of paradise suspended over a mangrove forest. On the Latin-inspired menu are numerous fresh and tasty dishes paired with colorful and hand-muddled mojitos and margaritas.
Snagging a reservation here is a treat to dine under the stars, beneath rustling palms, to taste the TV personality and cookbook author's delectable dishes, and earn points through your Marriott Bonvoy Bevy™ American Express® Card, too.
Aqua — The Ritz-Carlton, Wolfsburg
Boasting three Michelin stars, this dining room is awash in natural elements and decor, which match the fresh ingredients found on its farm-to-table menu.
This refined dinner-only restaurant overlooks a serene private garden with a large, shell-shaped water feature that evokes a Zenlike atmosphere. Each delightful dish is a work of art in its own right, as is the ethereal glass chandelier above, ensuring all senses are satisfied.
LAB by Sergi Arola — Penha Longa Resort, Portugal
Now with a Michelin star, this restaurant is known for true culinary entertainment in an intimate, 22-seat room awash in soft blue light, with a towering glass wine cellar as its centerpiece.
Choose meal pairings from a list of 550 wines from around the world to accompany one of three different tasting menus spanning different types of intricate flavors. The Catalan chef follows both culinary art and science mindsets in crafting these menus, which include a full vegetarian option.
Hanagatami — The Ritz-Carlton, Osaka
This Japanese restaurant serves multiple styles of cuisine: kaiseki, sushi, tempura, teppan-yaki and Sumibiyaki in an airy, minimalist space with a glass wall backed by a beautiful traditional Japanese garden.
Covering the foodie bases, this in-demand dining room offers set menus as well as a la carte options at the sushi counter or teppan-yaki tables. With a Michelin star, no matter what you order, it will surely be an artistic masterpiece and a delicious way to maximize your Marriott Bonvoy points.
Kabuki — The Ritz-Carlton Tenerife, Abama
On the Canary Island of Tenerife, this Michelin-starred Japanese fusion restaurant is a striking venue that prepares authentic recipes that fuse local ingredients with Japanese tradition and Western techniques.
Views from the restaurant and its terrace, located at the top of the hotel, are as wonderful as the cuisine — think blue Atlantic waters for days and rainbow sunsets. And the formal dress code adds to the feeling of a most special night out.
Marqués de Riscal Gastronomic Restaurant — Hotel Marqués de Riscal, a Luxury Collection Hotel, Elciego
This hotel is famed for its wine country surroundings and excellent views from its top-floor dining room.
As impressive as the undulating, Frank Gehry–designed exterior architecture is, it's the world-famous, Michelin-starred menu that is the star of the show here. Though the room, with its whimsical red walls bathed in golden light from soaring floor-to-ceiling windows, is a more than worthy costar.
Jin Xuan — The Ritz-Carlton Shanghai, Pudong
Whether you sit in the main dining room, tea lounge or one of the many private rooms, Jin Xuan Cantonese restaurant is exceptional.
Reserve early to score one of the window seats overlooking The Bund from this softly lit 53rd-floor perch, surrounded by lavish red and gold decor with plush velvet seating. If it's opulence and view for days you seek, this is your spot.
St. June — The Ritz-Carlton, Grand Cayman
This sophisticated seaside restaurant, in elegant shades of cream, evokes refined luxury in a relaxed setting — a perfect backdrop for its stylish drinks and local and South American inspired cuisine.
Lunch and dinner menus are fresh and flavorful, but those that don't want to miss out on a single moment of sunshine can also order dishes by the pool or on the beach. Sipping St. June's signature piña colada as the sun sets over the Caribbean is not to be missed.
Bayview by Michel Roth— Hotel President Wilson, a Luxury Collection Hotel, Geneva
Chef Michael Roth's Michelin-starred restaurant knows its audience. And true to its name, the windows at this upscale spot frame beautiful lake views. Inside, deep blue aquariums in the walls house delicate jellyfish.
To cater to the business market, an executive lunch menu means this hot spot is power-deal-central. Why not maximize your points earning when entertaining clients or enjoying a romantic vacation meal overlooking Lake Geneva?